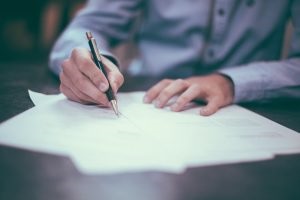 Imagine two kids that have never met their fathers. Both children have a strong desire to meet their fathers and have a close relationship with them. What's the best way a father can reveal himself to his children?
First Way – Writing a Letter
The first father believes writing a beautiful and flawless letter is the best way his son can know him. In that letter, the father explains his character, things he likes and doesn't like, warnings about evil, and how to have a good life.
After writing the letter, he sends it using a very important messenger. The child is very excited when he receives the letter. He reads it over many times.
The child now knows more about his father but still is not satisfied because he doesn't really know his father.
Second Way – Coming In Person
The second father believes the best way to know his child is to come in person. He writes a letter letting his son know when and how he will arrive. Then his son will know who to expect.
When that day comes, the father arrives just as he said. For several years they spend time together talking and going places. The child better understands his father's character because he can see it every day.
How do you best know someone – through a letter or in person? You can send us your thoughts here.
Why People Think the Quran is Not Allah's Revelation
Muslims believe the Quran is Allah's supreme revelation. Is that true? There are a few difficulties with this belief:
We have already seen there are deficiencies with a letter or book. You can only know about someone through a book, not truly know them intimately.
Historians are yet to find a complete manuscript of the Quran before the mid-seventh century that is exactly the same as the Quran today. Can we be absolutely certain the Quran is eternal and perfect?
Allah's Supreme Revelation – Isa Al-Masih
The best means of revelation is to come in person. Allah loves us. Isa Al-Masih willingly came to earth to show Allah's character to all mankind.
The Word of Allah reveals Isa Al-Masih as, ". . . the radiance of God's glory and the exact representation of his being . . ." (Gospels, Hebrews 1:3). Isa is eternal and has never sinned.
Isa Al-Masih came so we can know Allah personally. Through Isa's death, all of our sin can be forgiven, and we can have a close relationship with Allah. Allah wants to be the perfect father to us.
Allah doesn't stop there. As another revelation, Allah also gives the Holy Spirit to every follower of Isa Al-Masih. The Holy Spirit brings peace, joy, and strength.
Please contact us if you want to know Allah through Isa Al-Masih.
SOME QUESTIONS FOR THE COMMENT SECTION BELOW
We encourage our readers to comment on the article above. Comments that don't directly relate to the topic will be removed. Please start a dialogue with us by focusing on one of the following questions:
If you had never met your father, would you rather receive a letter from him or have him come in person? Why?

Why are books and letters insufficient to truly know Allah?

Do you have any guarantee of peace, joy, or strength to overcome sin? If so, where does that come from?
[We invite you to visit us at https://www.isaandislam.com/way-of-salvation to learn more about God's gift of Salvation. God loves you and waits to hear from you. Isa clearly said, "I am the way, the truth, and the life. No one comes to the Father except through Me" (Injil, John 14:6). For a deeper understanding of Isa, we suggest you subscribe to "Isa, Islam, and Al-Fatiha" at this link.]