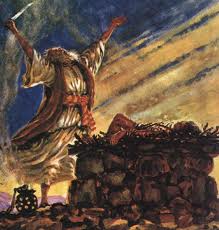 Every year, Muslims around the world celebrate the feast of Id al-Adha. This great celebration is also known as the Festival of Sacrifice. Id al-Adha is in memory of Abraham's willingness to sacrifice his own son to God. God rewarded Abraham's act of obedience by giving him a ram for the sacrifice in place of Abraham's only son. You can find this story at Qs. 37:102-107 and Genesis 22:1-14. We can learn several lessons from Abraham's experience.
The Lesson of Obedience
One lesson is about obedience to God. Abraham chose to follow the Word of God no matter what the cost. Even if that cost was his only son. God requires all of us to be obedient to His Word even when it will be hard or painful.
The Lesson of Faith
Another important lesson to learn from the story is about faith. Abraham believed in God with all his heart and this is called faith. In fact, Abraham is sometimes called the father of faith. He believed that through his obedience to God, something good would come about. And look what happened – God spared the life of Abraham's son. God also gave him a free gift as well – a ram to sacrifice. The ram did not cost Abraham anything.
The Lesson of Mercy and Love
The greatest lesson here is about God's love and mercy. God is gracious and merciful – Ar-rahmani r-rahim! God did not want Abraham or his son to suffer. So He Himself provided the perfect sacrifice for Abraham. God does not want anyone to suffer. He wants everyone to believe in Him and by faith walk with him. And because of this, He provides a sacrifice for us.
The Ram is a Symbol of a Much Greater Gift
God demonstrated His love and mercy for us by providing a sacrifice for all mankind. It is a perfect sacrifice. It doesn't cost us anything. All we have to do is have faith in Him and obey His Word. The sacrifice God gave to the world is Isa Al-Masih (Jesus the Messiah). God's Holy Word says, "For God so loved the world that he gave his one and only Son, that whoever believes in him shall not perish but have eternal life" (Injil John 3:16).
Blood Sacrificed to Wash Away the Sins of the World
We are all sinners by nature. God requires a sacrifice for the forgiveness of our sins. There is nothing we can offer to God that will wash us clean from our sins. Because God is merciful, He provided a sacrifice for all of us. A sacrifice that is precious and perfect. And this perfect and free sacrifice is Isa Al-Masih. "He is the atoning sacrifice for our sins and not only for ours but also for the sins of the whole world" (Injil, 1 John 2:2).
Isa Al-Masih Wants to Save You and Forgive Your Sins
Isa waits for you to come to Him. He wants to forgive your sins and give you eternal life in Heaven. He is just a prayer away. Imagine a new life! Yes, a new life where all your sins have been forgiven. A life where there is no more need for sacrifices. A life where there is no fear of death but certainty of Heaven. Isa Al-Masih told His followers, "This is my blood of thecovenant, which is poured out for many for the forgiveness of sins" (Injil Matthew 26:28).
[We invite you to visit us at https://www.isaandislam.com/way-of-salvation to learn more about God's gift of Salvation. God loves you and waits to hear from you. Isa clearly said, "I am the way, the truth, and the life. No one comes to the Father except through Me" (Injil, John 14:6) For a deeper understanding of Isa we suggest you subscribe to "Isa, Islam, and Al-Fatiha" at this link.]
SOME QUESTIONS FOR THE COMMENT SECTION BELOW
We encourage our readers to comment on the article above. Comments that don't directly relate to the topic will be removed. Please start a dialogue with us by focusing on one of the following questions:
1. Why do Muslims offer a ram as a sacrifice during the feast of Id al-Adha?
2. What lessons can we learn from Abraham's experience?
3. How does the sacrifice of Abraham point to the sacrifice of Isa Al-Masih?
If you have a question regarding this article, please contact us by clicking this link.