Christmas is just around the corner! Festive lights strung, trees decorated and colorfully wrapped presents fill the house. This special Christian holiday is a time of celebration. It's a time of giving and a time of receiving. It's a time when families gather together again. Friendships are rekindled anew. It's a long anticipated season of joy, celebration, and life. Most of all, it's a celebration of the coming of the Messiah who would save the world. Christmas is the celebration of the birth of Isa Al-Masih (Jesus Christ).
Isa Al-Masih Was the Holy Child Born of the Virgin Mary
The birth of Isa Al-Masih was a miracle of God. Mary, the mother of Isa, was a virgin. She was a pure and godly woman. That is why God chose her to be the mother of Isa. The angel Gabriel came to Mary and told her, "Behold, you will conceive in your womb and bear a son, and you shall name Him Jesus" (Injil, Luke 1:31). The Quran quotes God's angel as saying,, "I am only a messenger of thy Lord, that I may bestow on thee a faultless son" (Qs 19:19). Gabriel also told her that, "The Holy Spirit will come upon you, and the power of the Most High will overshadow you. So, the holy one to be born will be called the Son of God" (Injil, Luke 1:35).
The Joyous Birth of the Messiah
The miraculous birth of Isa Al-Masih was a time of joyous celebration. When the Messiah was born, shepherds tending their flocks were visited by an angel who told them, "Today in the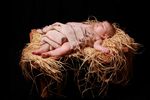 town of David (Bethlehem) a Savior has been born to you; he is Christ the Lord" (Injil, Luke 2:11). Then a great company of the heavenly host appeared with the angel, praising God and saying, "Glory to God in the highest, and on earth peace to men…" (Injil, Luke 2:13, 14). And God made a bright star to shine in the night sky. Wise men from the East saw the star and they "rejoiced with exceedingly great joy" (Injil, Matthew 10:20). They followed the star until they found the baby and they "fell to the ground and worshipped Him" (Injil, Matthew 2:11). The Quran says, "(And remember) when the angels said: O Mary! Lo! Allah hath giveth thee glad tidings of a word from him, whose name is the Messiah, Jesus, son of Mary, illustrious in the world and the Hereafter…" (Qs 3:45).
The Meaning of Giving and Receiving of Gifts at Christmas
The part of Christmas that most people think about is the giving and receiving of gifts. Certainly that is the favorite part of Christmas for children! But the exchanging of gifts has lost most of its meaning in our modern and commercial world.
We give and receive gifts to represent what God did for the world. God gave the world His only Son, Isa Al-Masih. All He asked is that we receive His gift. He is ours to keep forever. He asks for nothing in return. He solely wants us to believe. "Yet to all who did receive him, to those who believed in his name, he gave the right to become children of God" (Injil, John 1:12).
Isa Was God's Gift to the World
God's precious gift of salvation is found in Isa Al-Masih, our Lord. He was that special baby born in a manger in Bethlehem so many centuries ago. This was the precious and costly gift God laid at the feet of men. We did nothing to deserve Him. But because God loved us, He sent Isa Al-Masih to save us: "For the Son of Man came to seek and to save what was lost" (Injil, Luke 19:10).
Accept God's Gift to You this Christmas
Let your life be changed this Christmas season. There is a precious gift waiting for you. It is a gift from the hand of God. All you have to do is reach-out and believe. Repent from your sin of unbelief. Ask Isa Al-Masih, the Savior, to forgive you. Ask Him to live within your heart. Believe the Savior paid the price for your sins upon the cross. He has promised to cleanse you of all unrighteousness. He will do it! Then you will have new life.
[We invite you to visit us at https://www.isaandislam.com/way-of-salvation to learn more about God's gift of Salvation. God loves you and waits to hear from you. Jesus says to us, "I am the way, the truth, and the life. No one comes to the Father except through Me" (Injil, John 14:6). For a deeper understanding of Isa we suggest you subscribe to "Isa, Islam, and Al-Fatiha" at this link.]
SOME QUESTIONS FOR THE COMMENT SECTION BELOW
We encourage our readers to comment on the article above. Comments that don't directly relate to the topic will be removed. Please start a dialogue with us by focusing on one of the following questions:
1. Why do Christians celebrate Christmas?
2. How was Isa born to the world? Who visited Him and rejoiced when he was born?
3. Why should you receive the best gift of God this Christmas?
If you have a question regarding this article, please contact us by clicking this link.