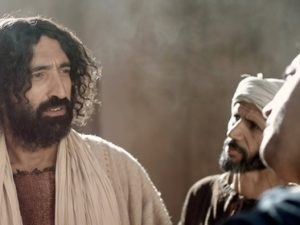 Isa's divinity is still heavily debated by many religions to this day. Some people say Isa is a prophet, others an amazing man, and others Allah. What do you believe about Isa? Email us your answer.
Why is Isa Al-Masih considered Allah by Christians? Many Muslims are confused by this. Because if Isa is not Allah, Christians wrongly worship Him. The answer to this question will help us have the proper attitude towards Isa.
100% Human, 100% Allah?
When Muslims are asked about Isa Al-Masih, they answer He is a prophet sent by Allah. This is because Isa was born into this world like everyone else. Is this where the story ends?
The Quran teaches that Isa was born of a virgin—Mary (Qs 19:20). Also, the Quran, Hadith, and Bible never say anywhere that Isa ever sinned.
If Isa Al-Masih was only a person, how could those two things above be true? Why can't Allah become human if nothing is impossible with Him? (Gospels, Luke 1:37).
John 1:1 and the Quran 3:45 claim that Isa is the Word of Allah (Kalimatullah). And "The Word became flesh and made his dwelling among us . . ." (Gospels, John 1:14).
This is why many Christians believe Isa is 100% human and 100% divine.
Isa Al-Masih's Life on Earth as God
Allah's Word states that Isa had many of the characteristics of Allah. He is said to be eternal, all-present, all-knowing, all-powerful, and never changes. He was also worshipped as Allah.
Isa Al-Masih did things that only Allah can do. For example, He created, He forgave sins, He raised the dead to life, and He will be the Judge of every person.
Contrary to what many people believe, Isa Al-Masih claimed to be God. He taught His disciples to pray in His name. Isa said He and the Father are one (Gospels, John 10:30). Isa also said to know Him is to know Allah.
Isa Al-Masih's Titles in the Quran
We also find special titles and respect for Isa Al-Masih in the Quran.
Isa was called a "sign to the people" and "mercy" (Qs 19:21), "among those brought near (to Allah)" (Qs 3:45). Also, "His Word" and "a Spirit from Him" (Qs 4:171).
Followers of Isa accept and agree with all of these titles given to Isa Al-Masih in the Quran.
And the Quran and Bible both teach Isa will come down as a just Judge on Judgment Day to judge all mankind (Gospels, John 5:22 and Qs 43:61).
Isa revealed Himself as Allah because He is God. He is all-powerful, but still He loves His people. Isa is the Messiah/Savior of the world. He came to earth to redeem people from their sins through His sacrificial death.
There is no reason to be confused anymore. Do you want to put your faith in Isa as God to be saved from your sins? Contact us today!
SOME QUESTIONS FOR THE COMMENT SECTION BELOW 
We encourage our readers to comment on the article above. Comments that don't directly relate to the topic will be removed. Please start a dialogue with us by focusing on one of the following questions:
Do you believe Isa is God? Why or why not?

After reading that the Quran points to Isa's divinity, does that change your opinion of Isa? If not, why not?

Is it possible for a mere human to have Isa's characteristics and abilities and not be God? Explain your answer.

[We invite you to visit us at http://www.isaandislam.com/way-of-salvation to learn more about God's gift of Salvation. God loves you and waits to hear from you. Jesus clearly said, "I am the way, the truth, and the life. No one comes to the Father except through Me" (Injil, John 14:6). For a deeper understanding of Jesus, we suggest you subscribe to "Isa, Islam, and Al-Fatiha" at this link.]