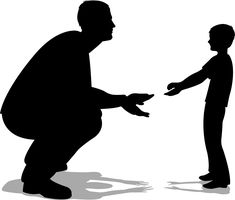 "He begets not, nor is He begotten" (Qs 12:32). "How can He have a son when He has no consort (wife)? He created all things, and He has full knowledge of all things" (Qs 6:101).
Muslims and Christians agree that God is spirit and has never been in a marital relationship. He has no wife. He created all things.
Keep Words in Their Context
So why does the Bible use the term Son of God? What does it mean? We must remind ourselves that words can be properly understood only in their context. Words are used in more than one sense. The Arabic word "ibn" (used above), can have a literal meaning. For example, the prophet Zechariah had a son named John (Qs19:7).
Words Can Have Symbolic and Spiritual Meanings
However, the word "son" can also have a symbolic or spiritual meaning. An outstanding athlete is spoken of as "the son of his country." We understand this to be symbolic. It speaks of a close connection of a person's identity with a place.
"Son of the road" (ibn al-sabil) is mentioned frequently in the Quran. Clearly it does not mean that the road took a wife and had a son. It speaks of a person who is constantly traveling and has a close connection to the road.
This helps us understand the term "son of God." It implies a deep spiritual connection without any sense of human reproduction. The Injil (Gospel) uses this expression in this way- never in a literal sense.
Several Symbolic Meanings of the Term "Son of God"
Below are several symbolic meanings of the term "son of God" in the Injil:
1) In one sense all humans are children of God. He created them. Adam is called "the son of God" in this sense (Injil, Luke 3:38). That means all of Adam's descendents are also children of God.
2) In a special sense the Injil calls all who believe in Isa Al-Masih children of God. "To all who received Him, to those who believed in His name, He gave the right to become children of God, who were born not of blood, nor of the will of the flesh, nor of the will of a man, but of God" (Injil, John 1:12-13). The verse rules out any literal meaning. It emphasizes a spiritual connection. Those who believe in Isa Al-Masih are God's children by spiritual adoption.
3) In a unique sense, the term "son of God" is used to refer to the King of Israel. God promised King David, "I will raise up your offspring after you, one of your own sons, and I will establish his kingdom. He shall build a house for me, and I will establish his throne forever. I will be his father, and he shall be my son" (1 Chronicles 17:11-12). In one sense this prophecy referred to Solomon, David's son, who built the temple in Jerusalem. But a further meaning is implied when the prophecy speaks of "his throne being established forever." Solomon died, but another descendent of David would come whose reign would never end.
The above promise using the words "son" and "father" are symbolic. They point to the promised Messiah. The Injil tells us that Isa Al-Masih fulfilled this prophecy. These are the meaning in the following references:
Injil, John 1:49 – "Nathanael said to Him, "Rabbi, you are the Son of God! You are the King of Israel."
Injil, John 20:31 – "These are written that you may believe that Jesus is the Messiah, the Son of God, and that believing you may have life in His name."
Jesus as the Word of God is the Son of God's Lips
4) In the Arabic language the word of a speaker can be called "the daughter of his lips." This brings us to a final important symbolic sense in which the Injil uses the term "Son." It is almost identical to the term "Word of God." Isa Al-Masih is called the Word of God both in the Quran and in the Injil. The following are some verses in the Injil where Isa is speaking about Himself:
Injil, John 14:9 – "Whoever has seen Me has seen the Father."
Injil, John 5:21-23 – "As the Father raises the dead and gives them life, so also the Son gives life to whom He will….Whoever does not honor the Son does not honor the Father who sent Him."
The Son and Father's relationship in these verses is like the relationship of a word to a speaker–"the daughter of his lips." God's word springs forth eternally from God, and it reveals to us the divine Speaker from whom it flows.
Salvation is Given by God's Word–the Savior of the World
God's Word, His Kalimat, has become visible. He was born to Mary in Bethlehem, a virgin. The Injil tells about His death on the cross and His ascension back into heaven. He has come to reveal God. He has come to bring eternal life to all who will receive Him. (Injil, John 1:12) He offers you eternal life. Will you receive the Savior?
[We invite you to visit us at https://www.isaandislam.com/way-of-salvation to learn more about God's gift of Salvation. God loves you and waits to hear from you. Isa clearly said, "I am the way, the truth, and the life. No one comes to the Father except through Me" (Injil, John 14:6) For a deeper understanding of Isa we suggest you subscribe to "Isa, Islam, and Al-Fatiha" at this link.]
SOME QUESTIONS FOR THE COMMENT SECTION BELOW
We encourage our readers to comment on the article above. Comments that don't directly relate to the topic will be removed. Please start a dialogue with us by focusing on one of the following questions:
– Why can't God be beget or begotten?
– According to the article, why Isa is called the "Son of God"?
– How do we know that Isa is the "Son of God"?
If you have a question regarding this article, please contact us by clicking this link.