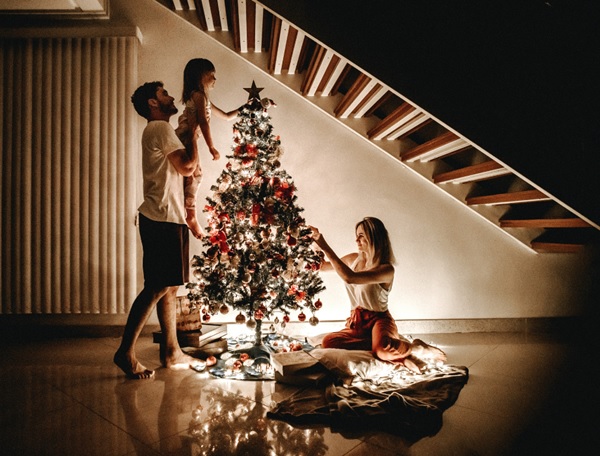 "Why do Christians hang lights and decorations everywhere during Christmas?" You may not appreciate this. Others, although they are not Christians, are happy to see the colorful lights during Christmas.
Christians believe that the "light" that shines has a special meaning tied to Christmas. What about Muslims?
Is the idea of "Christmas light" found in the Quran? If so, maybe it's good for Muslims to celebrate Christmas too.
Gus Dur's Opinion About the "Christmas Light" 
"Christmas should be celebrated not only by Christians, but also Muslims…and all mankind. Because…Isa Al-Masih is the Savior of all mankind, not the Savior of Christians only" (Former Indonesian President Gus Dur's speech at a Christmas celebration, December 27, 1999).
Maybe Gus Dur was thinking about Qs 5:46, "… And We sent, following in their footsteps, Isa Al-Masih, the son of Mary, confirming that which came before him in the Torah; and We gave him the Gospel, in which was guidance and light…"
"Light" is a reference to Isa Al-Masih. So, the idea of Isa Al-Masih as the "light" is found in the Quran.
Isa's birth means "Allah's light" has come to earth. That is why Christians hang Christmas lights. Doesn't the coming of "Allah's light" make it acceptable for Muslims to celebrate Christmas?
The concept of "light" is very important. According to Allah's Holy Book, mankind lives in darkness.
Do you feel that way? Always feeling confused. The future is uncertain. The afterlife is terrifying. Evil makes everything around us dark. Where can we find hope?
Isa, "The Light that Shines", Encourages Muslims to Celebrate Christmas 
One of Allah's names is An-Nur, the Giver of Light (Qs. 24:35). When the prophet, Simeon, saw Isa in Allah's Temple, he said, "He is the Light that shines over all nations!" (Injil, Luke 2:32).
Therefore, it was not surprising when Isa Himself said, "I am the light of the world. Whoever follows me will never walk in darkness, but will have the light of life" (Injil, John 8:12).
So, during Christmas, Christians celebrate Isa's coming from heaven to earth with lights and decorations. Christmas lights remind us that Isa is "Allah's Light" and the "Light of the World".
What Does Isa Being The "Light of Christmas" Mean to A Muslim Like Me? 
We may often feel like we're surrounded by darkness. The holy words from Isa Al-Masih ensure that we don't have to walk in darkness.
What should we do? Isa said, "Follow Me". If you become a follower of Isa, He will light your way! Therefore, all Muslims, including you, should celebrate Christmas so you can finally live in the light!
[IAI Staff – For input or questions about this article, please send your email to the staff of Isa and Islam.]
---
SOME QUESTIONS FOR THE COMMENT SECTION BELOW
We encourage our readers to comment on the article above.  Please start a dialogue with us by focusing on one of the following questions:
Asma'ul Husna Allah, An-Nur, means the Giver of Light. Why did Isa Al-Masih have the courage to call Himself the "Light of the World"?
Christmas is the celebration of Isa Al-Masih's (the "Light that Shines in the World") birth. Why are some Muslims reluctant to celebrate Christmas?
When Muslims celebrate Christmas, they are thanking Allah's Light for coming into our dark world. Why would it not be okay for Muslims to celebrate Christmas?
Comments from Christians or Muslims that don't directly relate to the topic will be removed.
Below are links related to the article above. If you are interested, click on the following links: 
To help readers, we marked ***** on the comments that we think are helpful in understanding the article above. When you are ready, you can subscribe to our weekly bulletin, "Isa, Islam, and Al-Fatihah."