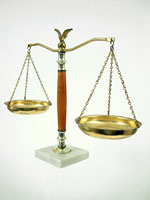 Are you afraid of judgment day? It's ok if you are! This is a very common fear, especially among Muslims. And you have good reason to be afraid!
Isa Al-Masih Will Judge All Mankind
The Quran teaches that on that day, Isa will judge us based on our deeds. There will be a scale, and hopefully the person's good deeds will outweigh his bad deeds. This is why it's important to pray, fast, and help the poor.
Hopefully, if that person has more good deeds than bad, Allah will allow him into heaven. The problem, though, is that this is only a hope. Allah can still decide he doesn't want the person in heaven, and send him to hell. He can do this even if a person has lots of good deeds!
The Injil's Promise
This means you can't know for sure if you'll get into heaven until judgment day. That's nerve wracking! But you don't have to live this way! You can know that on judgment day, you will be allowed into heaven.

Now you're probably thinking, "That's arrogant!" But it's not. It's a promise from the Injil! Isa said, "I give them eternal life, and they will never perish. No one can snatch them away from me, for my Father has given them to me, and he is more powerful than anyone else. No one can snatch them from the Father's hand" (Injil, John 10:28-29).
How to Get Into Paradise
You're probably wondering, how is this possible? How can I have this assurance of getting into heaven, and living forever? None of us deserve heaven because of our bad deeds. No matter how many good deeds we do, they will never be enough to cancel out our bad deeds.
So what cancels out our bad deeds? The Taurat teaches us that Allah requires a blood sacrifice to cover our bad deeds, or sins. In the Taurat, the Hebrew people had to sacrifice on a regular basis to receive forgiveness for their sins. This was a never-ending system. But then Allah sent Isa to earth!
Isa came to earth and lived a perfect life. He never sinned. Because of this, he could die as the sacrifice to end all sacrifices. This sacrifice cancels out everyone's bad deeds. By trusting in Isa's sacrifice, you can know that you have eternal life, and you don't have to fear the judgment!
[We invite you to visit us at https://www.isaandislam.com/way-of-salvation to learn more about God's gift of Salvation. God loves you and waits to hear from you. Isa clearly said, "I am the way, the truth, and the life. No one comes to the Father except through Me" (Injil, John 14:6) For a deeper understanding of Isa, we suggest you subscribe to "Isa, Islam, and Al-Fatiha" at this link.]
SOME QUESTIONS FOR THE COMMENT SECTION BELOW
We encourage our readers to comment on the article above. Comments that don't directly relate to the topic will be removed. Please start a dialogue with us by focusing on one of the following questions:
1. Are you afraid of judgment day? Why or why not?
2. Do you think a person can know whether he is going to heaven or not? Why?
3. How will you respond to Isa's sacrifice for your sins?