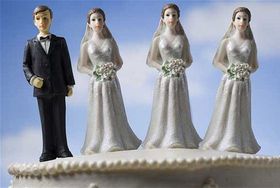 Most people know Islam as a religion that allows men to have more than one wife. Many people in the world look down on Islam because of this idea. In fact, polygamy is illegal in most countries of the world. But Muslims think of polygamy as not just a normal thing, but a good thing.
Muslims Defend Polygamy
Islam allows a man to have up to four wives. Muslims give several reasons why this should be allowed. The main reason Muslims give is that there are more women than men in the world. Therefore there are not enough men for every woman to have a husband.
Muslims also argue that monogamy is a Western idea. It obviously doesn't work because of all the divorces seen in the West. On the contrary, polygamy is a custom in all ages and cultures other than the West. Polygamy keeps a wife from being divorced, so the husband can still provide for her.
According to Muslims, men are naturally attracted to more than one woman, so to deny a husband more than one wife is to deny his natural instincts.
The Islamic Reason for Marriage
The main purpose of marriage, and sex, is to have children. So if the wife is barren, then the husband should take another wife so he can have an heir.
The first wife is allowed to object to the husband taking a second wife. If the husband does not listen to her wishes, this is actually grounds to divorce him.
Is Polygamy a Good Idea?
Ideally polygamy might be a good idea. But typically in polygamy, the first wife is forgotten. Story after story is told of a man taking a second wife and then not "providing" enough for his first wife. He gives clear preference to the younger, more beautiful, second wife; and all but forgets his first wife and often her children as well.
Marriage As Ordained by Allah
When Allah created humans, He created Adam and Eve. He created Eve to be Adam's wife, and only Eve. The Taurat gives this account in Genesis 2:24: "Then the Lord God made a woman. He made her from the rib he had taken out of the man. And he brought her to him. The man said, 'Her bones have come from my bones. Her body has come from my body. She will be named 'woman,' because she was taken out of a man.' That's why a man will leave his father and mother and be joined to his wife. The two of them will become one."
This is the way Allah created marriage to be. The husband and wife are to become one. How can a husband be one with more than one wife?
A Picture of Christ and the Church
Allah also created marriage to be a picture of Isa Al-Masih and the Church. The best example of this is in Ephesians 5:25-27: "Husbands, love your wives, just as Christ loved the church and gave himself up for her to make her holy, cleansing her by the washing with water through the word, and to present her to himself as a radiant church, without stain or wrinkle or any other blemish, but holy and blameless."
A Husband is to love his wife and help guide them both in growing closer to God, just as Isa Al-Masih loved us so much that he died for us, allowing us to have a relationship with God. Husbands can only learn to love their wives correctly when they understand God's love for them by sending a Savior into the world to die for them.
[We invite you to visit us at https://www.isaandislam.com/way-of-salvation to learn more about God's gift of Salvation. God loves you and waits to hear from you. Isa clearly said, "I am the way, the truth, and the life. No one comes to the Father except through Me" (Injil, John 14:6). For a deeper understanding of Isa we suggest you subscribe to "Isa, Islam, and Al-Fatiha" at this link.]
SOME QUESTIONS FOR THE COMMENT SECTION BELOW
We encourage our readers to comment on the article above. Comments that don't directly relate to the topic will be removed. Please start a dialogue with us by focusing on one of the following questions:
1. Why do Muslims think polygamy is a good thing?
2. Why aren't Christians allowed to marry more than one partner?
3. What does the Bible tell the husband to do towards his wife? Why?
If you have a question regarding this article, please contact us by clicking this link.