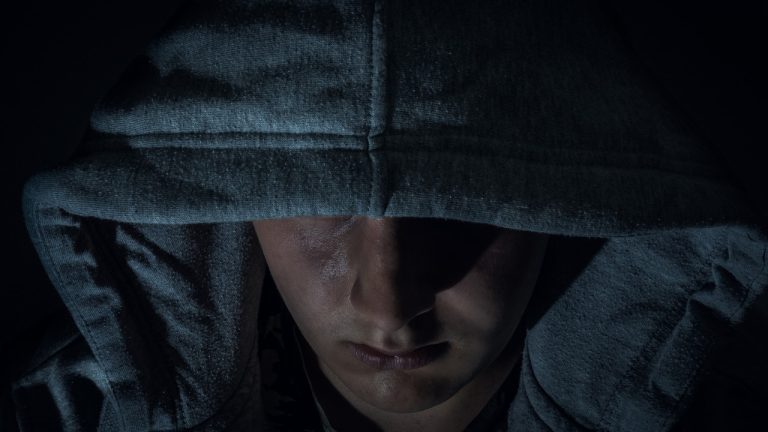 The convicted criminal covers his face to hide from the cameras of the media. He doesn't want to be shamed. Little kids hide from their parents after doing something wrong.
We're all the same. We do something wrong and try to hide our shame. We want to be honorable, but we've brought shame on our family, friends, community, and on the name of Allah.
Where Did the Shame Problem Start?
The problem of shame caused by our wrong-doing started in the very beginning with Adam. Allah provided Adam with a beautiful garden full of trees. Only one tree was forbidden to Adam.
"And the Lord God commanded the man, "You are free to eat from any tree in the garden; but you must not eat from the tree of the knowledge of good and evil" (Torah, Genesis 2:16-17) (Qs 7:19).
But Adam and Eve both ate of the forbidden fruit. The Quran says, ". . . when they tasted of the tree their shame became manifest to them and they began to sew together the leaves of the garden over their bodies" (Qs 7:22). ". . . they sewed fig leaves together and made coverings for themselves" (Torah, Genesis 3:7).
Cover Up Fails
Their disobedience brought shame. They tried to cover their shame with leaves. And we, the sons of Adam, are no different.
We cover up by hiding our wrong-doing and by trying to do good things to impress Allah. But, this is never enough to meet Allah's standard of perfection.
Share with us what you do to try and cover your shame before Allah.
Allah Covers Adam & Eve's Shame
How can I cover my shame before Allah? The fig leaves didn't work for Adam and Eve. Allah saw their shame and put them out of the garden as their just punishment.
But before he expels them, Allah does something very wonderful. We read, "The Lord God made garments of skin for Adam and his wife and clothed them" (Torah, Genesis 3:21).
Raiment of Righteousness Promised
Here is a beautiful indicator that blood sacrifice will one day cover our shame. Allah will provide a "raiment of righteousness."
As the Quran says, "O ye Children of Adam! We have bestowed raiment upon you to cover your shame, as well as to be an adornment to you. But the raiment of righteousness, that is the best. Such are among the Signs of Allah" (Qs 7:26).
The Prophet Isaiah foretold the time when Allah's people would rejoice that "he has clothed me with garments of salvation and arrayed me in a robe of his righteousness" (Torah, Prophet Isaiah 61:10).
Allah is pointing forward to the blood sacrifice of Isa Al-Masih that He provided as a covering for our shame.
Clothes of Righteousness to Cover My Shame
Everything we try to use to cover our shame is completely inadequate. We need to receive the covering Allah has provided for us through Isa. He carried our shame for us when He died.
If you trust in Isa to cover your shame, the Injil declares you "have clothed yourselves with Christ" (Injil, Galatians 3:27). Isa Al-Masih is our raiment of righteousness! Has your shame been covered? Write to us with your answer to this vital question.
SOME QUESTIONS FOR THE COMMENT SECTION BELOW
We encourage our readers to comment on the article above. Comments that don't directly relate to the topic will be removed. Please start a dialogue with us by focusing on one of the following questions:
Do you agree that we have all done things we are ashamed of? Please explain your answer.

What do you do to cover your shame before the eyes of Allah?

How did Allah provide a raiment of righteousness to cover our shame?
[We invite you to visit us at http://www.isaandislam.com/way-of-salvation to learn more about God's gift of Salvation. God loves you and waits to hear from you. Jesus clearly said, "I am the way, the truth, and the life. No one comes to the Father except through Me" (Injil, John 14:6). For a deeper understanding of Jesus, we suggest you subscribe to "Isa, Islam, and Al-Fatiha" at this link.]