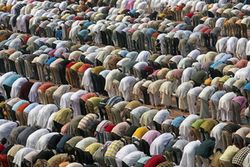 Every Friday, at the end of a prayer, Muslims together say Amen (Amin). Every Sunday, Christians end their prayers with Amen. By saying Amen, both Muslims and Christians affirm their prayers and faith. What does Amin mean?
The Meaning of "Amen"
Asy-Syaikhani reported from Abu Hurairah, "If any one of you say 'Amen,' when the angels in heaven are saying 'Amen,' if they are said at exactly the same moment, then all the sins of your past will be forgiven" (Al-Ihsaan fi Taqreeb Saheeh Ibn Hibban).
The word "Amen" comes from Semitic languages. In general it means, "very truly," "in truth," or "most certainly."
The Significance of "Amen"
"Amen" is one of the names of Allah or God (Tafsir Al-Mishbah, 93). Who is "Amen"?
Jesus the Christ, known as Isa Al-Masih, is the "Amen." "These are the words of the Amen, the faithful and true witness, the ruler of God's creation" (Injil, Revelation 3:14).
The timelessness of Jesus is shown by the verb tense he uses in the Injil to describe Himself: "Very truly I [Jesus] tell you, before Abraham was born, I AM" (Injil, John 8:58).
"Therefore God exalted Him [Jesus] to the highest place and gave Him the name that is above every name, that at the name of Jesus every knee should bow" (Injil, Philippians 2:9-10).
The Authority of "Amen"
"The angels declared that the Word of Allah will be the Christ, Isa. He is the son of Mary, held in honor now and in the future. He shall speak to all people and He is the Righteous One" (Qs 3:45-46). Why is "Amen" so powerful?
"Jesus Christ, the righteous One. He is the atoning sacrifice for our sins and not only for ours only but also for the sins of the whole world" (Injil, 1 John 2:1-2). Isa Al-Masih, as the righteous ruler of creation, has the power to forgive sins. Jesus says, "If we confess our sins, He is faithful and just to forgive our sins and to purify us from all unrighteousness" (Injil, 1 John 1:9).
What does Amen mean in your life? If your heart longs for forgiveness, you can pray to Jesus. When you say Amen, Jesus will also say Amen–"most assuredly" it is done! "Most assuredly, I [Jesus] say to you he who hears My words and believes in Him who sent Me has everlasting life" (Injil, John 5:24).
KEY QUESTIONS FOR THE READER:
When are Muslims promised forgiveness? When are Christians promised forgiveness?

Who is "Amen" and why is "Amen" so powerful?

What do you receive when you confess your sins and believe in Jesus [Isa Al-Masih]?
[We invite you to visit us at https://www.isaandislam.com/way-of-salvation to learn more about God's gift of Salvation. God loves you and waits to hear from you. Isa clearly said, "I am the way, the truth, and the life. No one comes to the Father except through Me" (Injil, John 14:6). For a deeper understanding of Isa, we suggest you subscribe to "Isa, Islam, and Al-Fatiha" at this link.]
If you have a question regarding this article, please contact us by clicking this link.