Some Muslims claim that Muhammad did not sin. They believe that Allah gave his prophets special protection to keep them from being "sinners." However, other Muslims claim that Muhammad was a sinner because he was just an ordinary human being. Which one is true? Did Muhammad really not sin?
Ordinary Man Sins
Both the Bible and the Quran say that ordinary men sin. It started when Adam and Eve disobeyed God by eating the fruit which God commanded them not to eat. "… from the tree of the knowledge of good and evil you shall not eat, for in the day that you eat from it you shall surely die" (Taurat, Genesis 2:17).
Because of this disobedience, they could not stay in the perfect garden, Eden. Disobedience is a sin and it separated them from the Holy God.
The Bible says that since Adam and Eve sinned, everyone is now separated from God. Separation from God made us "blind" and not able to do God's will anymore. We did what was bad in God's sight. Despite trying very hard to stop sinning by doing good, we keep falling again and again, and there seems to be no end.
Muhammad in the Quran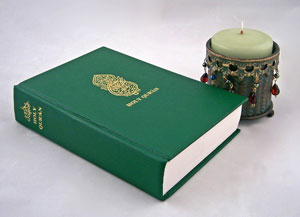 Despite the title as prophet given by the Muslims, Muhammad realized that he was a sinner. Qs 40:55 says, "Therefore have patience; God's promise is surely true. Implore forgiveness for your sins, and celebrate the praise of your Lord evening and morning." Also, Qs 48:2 says, "so that God may forgive you your past and future sins, and perfect His goodness to you."
Then, in Qs 47:19, Muhammad asked for forgiveness for both himself and his followers: "Know that God is the only Lord. Ask forgiveness for your sins and for the sins of the believing men and women. …"
Isa Al-Masih Did Not Sin
The Quran says that Isa Al-Masih was pure and had a perfect life. Qs 19:19 records the angel Gabriel telling Maryam that she would give birth to Isa. The message from Allah was, "… I will give you a pure boy."
The Bible agrees with the Quran. Hebrews 4:15 says, "… for he [Isa Al-Masih] faced all of the same testings we do, yet he did not sin." Because Isa had lived a perfect life, He could offer himself as the sacrifice for Allah's forgiveness to all of us. In Matthew 26:28, Isa said, "For this is my blood of the covenant, which is poured out for many for the forgiveness of sins."
Will God Forgive Muhammad?
Muhammad acknowledged that Isa was from God and was born through the virgin Maryam by God's spirit. He also acknowledged that Isa did miracles during His service on earth. He even believed that Isa would come at the end of time as judge and would cast out the anti-Christ. However, he denied Isa as the One who died as the sacrifice for his sin (Qs 43:81, Qs 4:157).
Instead of coming to Isa, Muhammad claimed himself as a mediator for God's forgiveness (Qs 4:64). If Muhammad was a sinner and asked for forgiveness for himself and others, then how could he be a mediator?
Isa never sinned. He was sent by Allah because Allah loved the world. Isa came to forgive our sin. Do you seek forgiveness from Allah? Come to Isa and you'll be forgiven.
[We invite you to visit us at https://www.isaandislam.com/way-of-salvation to learn more about God's gift of Salvation. God loves you and waits to hear from you. Isa clearly said, "I am the way, the truth, and the life. No one comes to the Father except through Me" (Injil, John 14:6) For a deeper understanding of Isa we suggest you subscribe to "Isa, Islam, and Al-Fatiha" at this link.]
SOME QUESTIONS FOR THE COMMENT SECTION BELOW
We encourage our readers to comment on the article above. Comments that don't directly relate to the topic will be removed. Please start a dialogue with us by focusing on one of the following questions:
1. Do you believe that Muhammad is sinless?
2. Can we stop sinning?
3. Who can be trusted for giving us assurance of forgiveness: Muhammad or Isa Al-Masih?
If you have a question regarding this article, please contact us by clicking this link.