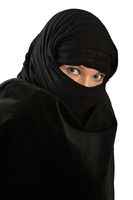 Almost all Muslims praise Khadijah Bint Khuwaylid, Muhammad's first wife. She is often called "the mother of believers." She was rich and inherited a very successful business from her father who died in a battle. Despite her prestigious status, she had an inner beauty which Muslim women around the world praise and follow.
She often fed and clothed the poor. She also married Muhammad, who was her employee. In the marriage, she became an ideal wife and mother. She was Muhammad's supporter and helper through the good and bad times. Muhammad lived monogamously with her for 25 years (until she died).
Inner beauty isn't innate from birth. It's something a woman must learn. Where did Khadijah learn such inner beauty?
Khadijah Wasn't a Pagan Worshiper
During the pre-Islamic era in Arabia, many people worshiped idols. But according to Muslim sources, Khadijah didn't worship idols. She worshipped a monotheistic God.
Khadijah's Cousin
There's a strong possibility that Khadijah studied Christianity. She was an educated woman who traveled for business. She also had a cousin who was a Christian priest with whom she was very close. Prior to her marriage, Khadija took Muhammad to meet him and asked him for advice. "… She [Khadija] took him [Muhammad] to Waraqa bin Naufal who was a Christian convert …" (Bukhari Sahih Volume 4, Book 55, Number 605: Narrated 'Aisha).
So what does Christianity teach about inner beauty?
Inner Beauty = A Gentle and Quiet Spirit
The Injil teaches that inner beauty comes from a gentle and quite spirit. "Your beauty … should be that of your inner self, the unfading beauty of a gentle and quiet spirit, which is of great worth in God's sight …" (Injil, 1 Peter 3:3-5). This doesn't mean that a woman is a "doormat" allowing people to do whatever they want to her. But it does mean that she serves with grace and humility while standing for justice.
Salvation is the Most Important Thing
So, Khadijah possibly learned about inner beauty from Christianity. The Injil teaches that inner beauty comes from a gentle and quite spirit.
However, the Injil teaches that Salvation is the most important thing! Salvation relates to God's forgiveness toward us. Without His forgiveness, we can't have a place in heaven. God loves us. He sent Isa Al-Masih to save us from this punishment. Allah allowed Isa to die as a holy sacrifice for all of us. Isa didn't die forever; He was resurrected on the third day! He then ascended to heaven and is still there, sitting at the right hand of God.
[We invite you to visit us at https://www.isaandislam.com/way-of-salvation to learn more about God's gift of Salvation. God loves you and waits to hear from you. Isa clearly said, "I am the way, the truth, and the life. No one comes to the Father except through Me" (Injil, John 14:6) For a deeper understanding of Isa, we suggest you subscribe to "Isa, Islam, and Al-Fatiha" at this link.]
SOME QUESTIONS FOR THE COMMENT SECTION BELOW
We encourage our readers to comment on the article above. Comments that don't directly relate to the topic will be removed. Please start a dialogue with us by focusing on one of the following questions:
1. Why do Muslim women make Khadija their model to follow?
2. What does Christianity teach about inner beauty?
3. Why is salvation important for inner beauty?