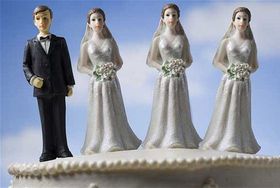 Muslims are allowed to have up to four wives (Qs 4:3). Yet, Muhammad had 15 wives! According to Islamic teaching, Muhammad married his wives for special purposes. They were to help out widows, unite different clans, and strengthen family bonds under Islamic teaching. However, it also seems that Muhammad had more privileges in marriage than other Muslims do.
Muhammad's Wives Must Obey Him
According to the Quran, one privilege was that Muhammad's wives had to obey him. Otherwise, he would divorce her. This obedience is reflected in these words: "If you will be on your guard, then be not soft in (your) speech, lest he in whose heart is a disease yearn; and speak a good word. And stay in your houses and do not display your finery… and keep up prayer, and pay the poor-rate, and obey Allah and His Messenger" (Qs 33:32-33).
Muhammad Could Divorce Whoever He Wanted
Muhammad could also divorce his wife if he didn't like her anymore. This happened with his wife, Sauda bint Zamah. She had become old and unattractive. When she knew Muhammad was going to divorce her, she offered her turn with Muhammad to be with Aisha. "Narrated 'Aisha that Sauda bint Zam'ah gave up her turn to Aisha, and so the prophet used to give Aisha both her day and the day of Sauda'" (Bukhari, the Book of Nikah, Hadith No. 139). Muhammad accepted it and spent her days with Aisha.
Muhammad Could Marry Whoever He Wanted
Muhammad had more privileges in who he married than other Muslims do. Zainab was Muhammad's cousin who was married to his freed slave, Zaid. One day, Muhammad went to Zaid's house on business. However, he was not at home. Zainab greeted him. She was wearing a dress that showed her beauty. He couldn't help crying out, "God be praised, who turns the hearts of men as he pleases!"
Zainab told her husband about this. Zaid decided to divorce Zainab so Muhammad could marry her. Qs 33:36-38 states, "It is not fitting for a believer, man or woman, when a matter has been decided by God and His Messenger to have any choice in the affair. Whoever disobeys God and His Messenger, he is indeed on a clearly wrong path. …There is no fault in the Prophet, touching what God has ordained for him." This revelation seems designed to give Allah's approval of the marriage.
The Injil's Teachings about Marriage
The Injil directly contradicts the Quran on marriage. It teaches that marriage should only be between one man and one woman. This applies to all believing men, including pastors. "… An overseer must be above reproach, the husband of one wife …" (1 Timothy 3:2).
The Injil also tells husbands to love their wives. "Husbands, love your wives, as Christ loved the church and gave himself up for her, … In the same way husbands should love their wives as their own bodies. He who loves his wife loves himself" (Ephesians 5:25-28). Isa loved us so much, He willingly sacrificed Himself for all mankind. Isa is the role model for husbands. So, a husband must love his wife so much he is willing to give up his life for her.
Through Isa's sacrifice, we can know perfect love and forgiveness. Would you like to have this? You can, by trusting in Isa as your Sacrifice.
[We invite you to visit us at https://www.isaandislam.com/way-of-salvation to learn more about God's gift of Salvation. God loves you and waits to hear from you. Isa clearly said, "I am the way, the truth, and the life. No one comes to the Father except through Me" (Injil, John 14:6). For a deeper understanding of Isa we suggest you subscribe to "Isa, Islam, and Al-Fatiha" at this link.]
SOME QUESTIONS FOR THE COMMENT SECTION BELOW
We encourage our readers to comment on the article above. Comments that don't directly relate to the topic will be removed. Please start a dialogue with us by focusing on one of the following questions:
• Do you think it's fair that Muhammad was allowed to divorce his wife if she disobeyed him?
• Why do you think Muhammad was allowed more freedom in marriage than any other man?
• What does the Injil teach about marriage?
If you have a question regarding this article, please contact us by clicking this link.