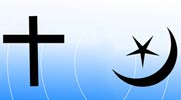 Both Muhammad and Isa Al-Masih are extraordinary. But which one is greater? In order to find this out, we must compare them. The comparison includes Muhammad and Isa Al-Masih's birth stories. After comparing the facts, we will see who the most special one is.
Who Were Muhammad and Isa Al-Masih?
Muhammad said, "Verily, before your Lord made any other thing, He created from His own Light the light of your Prophet [The light of Muhammad]." According to this, through the light of Muhammad, God created all things. Yet, the divine light of Muhammad, who then became Muhammad, died like a normal human being.
Isa Al-Masih is the divine Kalimatullah, "… the Word was with God, and … was God" (Injil, John 1:1). Isa Al-Masih "… was raised from the dead" (Injil, John 21:14) and "… was taken into heaven" (Injil, Luke 24:51). Both Muslims and Christians believe that Isa is in heaven right now.
The Births of Muhammad and Al-Masih
Islam teaches that a Jew prophesied the birth of Muhammad to the Quraisy people. But there is not one prophecy about Muhammad in God's Books (Taurat, Zabur, and Injil). Why didn't Allah
prophesy about him?
On the contrary, Allah prophesied the birth of Isa Al-Masih 700 years before His birth. "Therefore the Lord himself will give you a sign: The virgin will conceive and give birth to a son [Isa Al-Masih], and will call him Immanuel" (Taurat, Prophet Isaiah 7:14 fulfilled in Injil, Matthew 1:23).
Muhammad was born the same as every other human. Abdullah married Aminah, who later gave birth to Muhammad.
But Isa Al-Masih's birth was through a virgin by God's miracle. The Quran acknowledges that Maryam's pregnancy was not from man's touch (Qs 19:19). The angel told Maryam, "the Holy Spirit will come on you …" (Injil, Luke 1:35). Have any other humans been born by God's Spirit through a virgin?
Muhammad's and Isa Al-Masih's Names
Muhammad's grandfather, Abdul Muthallib, named his grandson Muhammad, or Ahmad, which means "commendable."
God Himself named Isa Al-Masih. God's angel commanded Joseph "to give him the name Jesus [Isa], because he will save his people from their sins" (Injil, Matthew 1:21).
Muhammad's and Isa Al-Masih's Power
Muhammad was given power only as a "warner", "… I [Muhammad] am only to you a clear warner"(Qs 22:49). So Muhammad only has power to warn us of what God will do to us if we don't follow him.
Isa Al-Masih received the name Jesus/Yeshua "… because he will save his people from their sins" (Injil, Matthew 1:21). Isa is the only one who has power to forgive sins.
So based on these facts, who do you think is more important? Isa or Muhammad? We hope this will cause you to learn more about Isa Al-Masih. He desires to know you today!
SOME QUESTIONS FOR THE COMMENT SECTION BELOW
We encourage our readers to comment on the article above. Comments that don't directly relate to the topic will be removed. Please start a dialogue with us by focusing on one of the following questions:
1. Through the comparison above, who is greater? Why?
2. Why does Isa Al-Masih have power to forgive sins and allow people into heaven, but Muhammad doesn't?
3. What is your attitude toward Isa Al-Masih, God's divine Word?