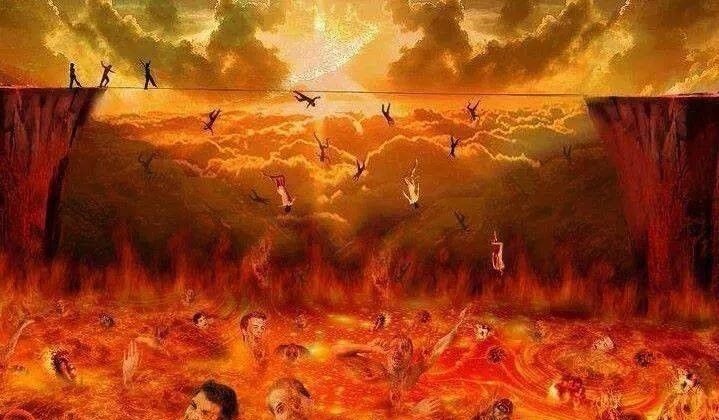 Joko dreamed about Judgment Day. He stood on the plain of Mahsyar overlooking Jahanam, the seventh level of hell, and gazed at As-Sirat. He must cross this bridge to avoid falling into Jahanam.
But As-Sirat was no ordinary bridge. According to his religion it was as fine as a piece of hair, as razor-sharp as a sword, hotter than a coal of fire and extremely slippery. There were hooks and thorns along the sides of the bridge that could hook and snag a person, dragging him into Jahanam. Joko's religion taught him that only good works and faith would help him cross As-Sirat safely.
All his life his religion reminded him of the difficulty of crossing As-Sirat. This made him very fearful and careful in practicing his religion. He did as many good deeds as possible so that, hopefully, on Judgment Day he would be able to cross As-Sirat. Email us if you, like Joko, ever had a terrifying dream about hell.
The "Bridge Over Hell" in Ancient Religions
This bridge was developed in Zoroastrianism, the ancient religion of Persia. Zoroastrianism called the bridge "Chinvat" and the "Bridge of Judgment," a bridge as sharp as a sword. Upon death, all souls had to cross this bridge.
Not Everyone Accepts the Idea of As-Sirat
One group of Muslims, the Mu'tazilah, did not believe in such a bridge as As-Sirat. According to them the idea was illogical. They said that it would be impossible for a person to cross a bridge that was narrower than a strand of hair, as sharp as a sword, slippery and always moving.
Also, followers of Isa Al-Masih do not accept the idea of a bridge crossing hell into heaven. The idea of such a bridge is not found in Allah's Book.
The Cross Is Not a Bridge over Hell!
There is no Bible verse that says the Cross of Isa is a bridge over hell. Yet there is a verse that says Isa Al-Masih is the only Way to heaven. "I am the way . . . No one comes to the Father (heaven) except through me" (John 14:6). Through His crucifixion Isa Al-Masih provided for the forgiveness of sin and the assurance of heaven.
Thus, followers of Isa Al-Masih often use the Cross as a metaphor for a "bridge" over hell to heaven. People easily understand the similarity between a "road" and a "bridge."
What Bridge Will You Choose?
What if, in his dream, Joko saw the Cross as a safe "bridge" that crosses into heaven? What if he saw many people with smiles on their faces walking on that "bridge" over hell into heaven? If you were Joko, which "bridge" would you choose? As-Sirat or the Cross? Email us about which bridge you would take.
Joko does not need to stand in fear on the plain of Mahsyar looking at As-Sirat. Isa Al-Masih, Kalimat Allah, has already been punished for Joko's sins and the sins of all mankind. By accepting Isa as His Savior, Joko would not fear As-Sirat at the end of his life because he would go directly to heaven.
SOME QUESTIONS FOR THE COMMENT SECTION BELOW
We encourage our readers to comment on the article above. Comments that don't directly relate to the topic will be removed. Please start a dialogue with us by focusing on one of the following questions:
In your opinion, why did Islam introduce the difficult concept of crossing As-Sirat to get into heaven into its belief system?
If you were asked, how would you advise Joko so that he would not live in fear of As-Sirat? Explain you answer.
Have you ever been afraid and anxious when thinking about As-Sirat? How did you get rid of your fear?
[We invite you to visit us at https://www.isaandislam.com/way-of-salvation to learn more about God's gift of Salvation. God loves you and waits to hear from you. Isa clearly said, "I am the way, the truth, and the life. No one comes to the Father except through Me" (Injil, John 14:6). For a deeper understanding of Isa, we suggest you subscribe to "Isa, Islam, and Al-Fatiha" at this link.]