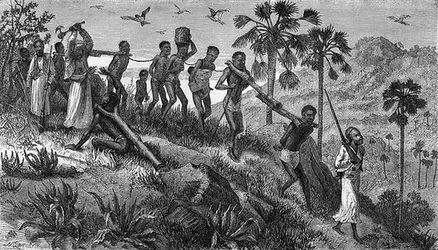 According to several online news websites, ISIS has captured many Yazidi and Christian women, treating them as sex slaves. They have also sold them. They sell women between the ages of 40-50 for $40, and children between the ages of 1-9 are sold for $158. ISIS believes that sharia allows them to enslave prisoners of war during jihad.
Religious Views and Muslim Figures on Slavery
Islamic figures have different opinions about slavery. Dr. Abdul-Latif Mushtahari admits that Islam allows slavery. He says, "Islam does not prohibit slavery but retains it for two reasons. The first reason is war. Only non-Muslim captives may be enslaved or killed. The second reason is the sexual propagation of slaves which would generate more slaves for their owner" (You Ask and Islam Answers, 51-52).
Some Muslim leaders are opposed to slavery. One such Muslim is Syamsuddin Ramadhan An-Nawiy, who wrote, "Islam has encouraged people to free the slaves that they have."
But verses in the Quran allow Muslims to have slaves. Some of them are: "And those who guard their private parts except from their wives or those their right hands possess" (Qs 70:29-30). "We have made lawful to you your wives … and those your right hand possesses" (Qs 33:50).
Slavery in Ancient Times
We find slaverythroughout the Bible and history. But the practice was very different from the past few centuries. It was more for economic reasons and it was regulated. They could be free after a certain time of compensation.
Isa, the Law of Love, and Slavery
In His life and work, Isa Al-Masih never enslaved humans. Slavery is oppressive, demeaning, and unloving. Isa taught, "… 'Love your neighbor as yourself'" (Injil, Matthew 22:39). We are to love everyone the same!
The apostle Paul also told a member of one of the churches he began, Philemon, to free a slave. Paul said, "I appeal to you to show kindness to … Onesimus. … I am sending him back to you, and with him comes my own heart. … He is no longer like a slave to you. He is more than a slave, for he is a beloved brother, especially to me. Now he will mean much more to you, both as a man and as a brother" (Philemon 1:10-16).
Muslims and Christians must reject enslaving others. Even more importantly, we must resist being enslaved to sin! Isa Al-Masih loves all of mankind. He wants to free us from the slavery of sin and its punishment. He did this through dying as the sacrifice that Allah requires for our sin. Isa "… gave his life to free us from every kind of sin" (Titus 2:14). When we accept His love and sacrifice, we are free from sin.
[We invite you to visit us at https://www.isaandislam.com/way-of-salvation to learn more about God's gift of Salvation. God loves you and waits to hear from you. Isa clearly said, "I am the way, the truth, and the life. No one comes to the Father except through Me" (Injil, John 14:6). For a deeper understanding of Isa we suggest you subscribe to "Isa, Islam, and Al-Fatiha" at this link.]
SOME QUESTIONS FOR THE COMMENT SECTION BELOW
We encourage our readers to comment on the article above. Comments that don't directly relate to the topic will be removed. Please start a dialogue with us by focusing on one of the following questions:
Which teachings about slavery are better, Muhammad's or Isa's? Please explain your reasons.

Why do you think we still have slavery?

How can mankind be free from the bondage of sin?
If you have a question regarding this article, please contact us by clicking this link.