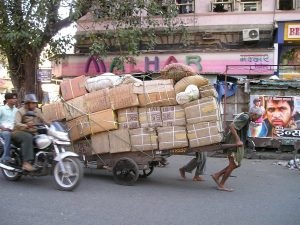 As a religious person, surely you've asked: "What do I have to do to erase all my sins?" This question is crucial.
Yet, maybe you haven't found a convincing answer. You've probably heard different answers, but you're uncertain which one is correct. After reading this article, you'll know the only way to erase all sins.
Why Does Removing Sin Matter?
Before answering the question above, we need to understand why removing all our sins is necessary. Every religious person knows that sins are bad, but why?
First of all, Allah is Holy and allows no sins before Him. ". . . Indeed, Allah loves not one who is a habitually sinful deceiver" (Qs 4:107).
Secondly, sins separate us from Allah. "But your iniquities have separated you from your God; your sins have hidden his face from you, so that he will not hear" (Isaiah 59:2).
Therefore, all our sins must be cancelled if we want to be accepted by Allah and go to Heaven.
Ways to Erase All Sins According To Islam
When I was researching for the ways to cancel sins according to Islamic teaching, I found 17 different ways. Some of them are:
Repentance
Stop committing major sins
Istighfar (seeking forgiveness from Allah)
Doing good deeds
Doing good deeds for people who have died
Interceding for the salvation of Muhammad
Giving more to charity
Prayer/Sholat
Observing wudhu
Fasting
Hajj Pilgrimage
Being martyred in jihad (Abdullah Bin Al-Mubarak)
Wow! How could someone remember and obey every single thing perfectly? If someone does every good deed mentioned above diligently, will they be guaranteed heaven?
Are there 17 Ways or One Way to Erase Sins?
Actually, there is only one thing we have to do to erase all sins, not 17. Only one! What is it?
Allah promised to forgive every person who confesses his sins, and believes in Isa Al-Masih. Because Isa died for all our sins.
Allah's Word says, "All the prophets testify about him [Isa Al-Masih] that everyone who believes in him [Isa Al-Masih] receives forgiveness of sins through his [Isa Al-Masih] name" (Acts 10:43).
Allah doesn't want to burden men, but wants to relieve us (Matthew 11:28-30).
You Don't Have To Be Anxious Anymore!
Therefore, you don't have to be anxious about your sins anymore! Isa Al-Masih will erase all your sins – past, present, and future. If you believe in Him, you will go straight to Heaven when you die.
I have repented and decided to believe in Isa Al-Masih. I invite you to trust Him. Please contact us if you want to believe in Isa today.
SOME QUESTIONS FOR THE COMMENT SECTION BELOW
We encourage our readers to comment on the article above. Comments that don't directly relate to the topic will be removed. Please start a dialogue with us by focusing on one of the following questions:
Do you agree that Muslims have to do 17 things to erase all their sins? Why?

Does the thought of all you have to do to cancel your sins cause you to worry?

Why have you not believed Isa for forgiveness? Are there any other sure ways to cancel sins? 
[We invite you to visit us at http://www.isaandislam.com/way-of-salvation to learn more about God's gift of Salvation. God loves you and waits to hear from you. Isa clearly said, "I am the way, the truth, and the life. No one comes to the Father except through Me" (Injil, John 14:6). For a deeper understanding of Isa, we suggest you subscribe to "Isa, Islam, and Al-Fatiha" at this link.]