I remember clearly when I first heard Qs 112:3 repeated, "He [Allah] begets not, nor is He begotten." I was sitting on the front porch of our home in East Java, Indonesia. Several middle school children stopped and stared at me on their way home from school. With loud voices they shouted in Indonesian, "Allah tidak beranak dan tidak diperanakkan" (He begets not, nor is He begotten). Then they went on their way. Although that happened 45 years ago, it is still fresh in my memory.
Those children, and all Muslims, think statements like that are contrary to the Christian faith. But that is not true. Christians fully agree with Qs 112:3. A Christian also can happily state, "He begets not, nor is He begotten." Nevertheless, God's Holy Book still plainly teaches that Isa Al-Masih is the Son of God. Let me explain.
Symbolic and Literal Language are Not the Same
A person who hears the term "Arabia's Child" certainly does not think Arabia gave birth to a child. He understands that the child is from Arabia. Another example is the phrase "key son." It does not mean the key gave birth to a son. It means he is the most important son. This is symbolic language.

What does the statement, "Mohammad is God's Beloved" mean? Does God have a marriage relationship with Mohammad, like a man with a woman? Certainly not! All Muslims understand that this statement is symbolic.
Therefore, how do we understand the holy verse found in the Injil: John 3:16? It says, "For God so loved the world that he gave his one and only Son, that whoever believes in him shall not perish but have eternal life."
In this verse, "His one and only Son" is a figure of speech. It is like "son of Arabia," meaning the person comes from Arabia. In this case, "God's son" means He comes from God, even though he is not the biological son of God.
God Did Not Biologically Produce a Son
Nowhere does the holy Injil teach that God had a biological relationship with Mary resulting in the birth of a new god called Jesus Christ. Such statements are heresy and blasphemy! The Injil actually states, "The Holy Spirit will come on you (Mary), and the power of the Most High will overshadow you…" (Luke 1:35). The idea of God having a "biological son" is a misunderstanding of many Muslims. Those who understand it in this way have difficulty distinguishing between literal and figurative language.
The Bible has no teaching that contradicts "…there is only One God. He is too glorious to give birth to a son . . ." (Qs 4:171). Unfortunately, this Quranic statement does not distinguish between figurative and literal language.
If God Was Not Born – How Did He Come into the World?
When I lived in Indonesia I often asked my Muslim friends, "Can God enter the local soccer stadium?" They would answer, "God is All-Powerful. He can go wherever He wants." I would ask again, "Can God enter our homes?" They would give the same answer. I finally asked, "Can God go into a virgin's womb?" They had to answer, "God is All-Powerful. If He wants to go into a virgin's womb, He can do so."
Since God did not have a biological son, who is Isa Al-Masih? Isa is called "God's Statement" or "God's Word" (Kalimah Allah). God's Word is eternal. His Word (Kalimah) originates in Heaven. The Word of God (Kalimah Allah) entered Mary's womb and was born as a human being.
For 33 years on this earth, The Word of God (Kalimah Allah), who was born of Mary, was known by the name "Isa Al-Masih."
The "Word of God" – Incarnated as a Human Being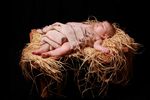 In other words, the eternal, pre-existing Word of God became a human being through the process of birth. God was not birthed or born. He, who is Spirit, came from heaven to earth, temporarily clothed in a human body. "Beyond all question, the mystery of godliness is great: He appeared in a body, was vindicated by the Spirit, was seen by angels, was preached among the nations, was believed on in the world, was taken up in glory" (I Timothy 3:16).
The Kalimah Allah (Isa Al-Masih) willingly concealed His divine nature so that he could live in a sinful world. Isa did this so mankind could be made right before his Creator. "Because one person disobeyed God, many became sinners. But because one other person obeyed God, many will be made righteous" (Romans 5:19).
[We invite you to visit us at https://www.isaandislam.com/way-of-salvation to learn more about God's gift of Salvation. God loves you and waits to hear from you. Isa clearly said, "I am the way, the truth, and the life. No one comes to the Father except through Me" (Injil, John 14:6). For a deeper understanding of Isa we suggest you subscribe to "Isa, Islam, and Al-Fatiha" at this link.]
SOME QUESTIONS FOR THE COMMENT SECTION BELOW
We encourage our readers to comment on the article above. Comments that don't directly relate to the topic will be removed. Please start a dialogue with us by focusing on one of the following questions:
1. Do Christians agree with Qs 112:3?
2. Does the Injil teach that God can have a son biologically?
3. How did Isa Al-Masih come to earth?