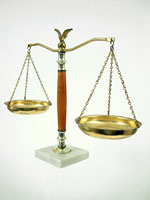 Muslims around the world do good deeds because the Quran teaches you must have more good works than bad to get into paradise. "Then those whose scales are heavy [with good deeds], they are the successful" (Qs 23:102). On Judgment Day, Allah will put their deeds on a scale. If the good deeds tip the scale, they will go to paradise. But if there are more bad deeds, they will go to hell.
One Sin Makes You Sinful
We have several issues with this. First, you don't know if your good deeds will outweigh your bad deeds until you stand before Allah. You have to live your entire life never knowing if you have more good deeds or bad deeds. The other problem is that just one bad deed makes you completely "bad" or "sinful."
Let's say someone gives you a plate of fried rice with a small piece of pork in it. Would you eat it? Of course not! One piece of pork makes the entire plate of fried rice haram. In the same way, one sin makes us sinful.
God is completely holy. He has no sin. So why would he let anyone into paradise who has done even one sin? Paradise must be free of sin.
How Do You Get Into Paradise?
In the Taurat, God set up a sacrificial system for the Hebrew people. They had to make blood sacrifices in order to pay for their sin.
Isa came to earth and lived a perfect life. He never sinned. Because of this, Isa could become the ultimate sacrifice, paying for the sins of everyone. "… We [followers of Isa] have been made holy through the sacrifice of the body of Jesus Christ [Isa Al-Masih] once for all" (Hebrews 10:10).However, there was a problem with this system. The sacrifices had to be done on a regular basis, because we sin every day! So God sent Isa Al-Masih.
God wants everyone with Him in paradise (heaven). But you must accept the sacrifice of Isa. Without it, your sin is still on you. You must pay for it yourself. So which one will it be?
Will you trust in Isa and accept His sacrifice? Or will you continue to try to take care of your own bad deeds?
[We invite you to visit us at https://www.isaandislam.com/way-of-salvation to learn more about God's gift of Salvation. God loves you and waits to hear from you. Isa clearly said, "I am the way, the truth, and the life. No one comes to the Father except through Me" (Injil, John 14:6). For a deeper understanding of Isa, we suggest you subscribe to "Isa, Islam, and Al-Fatiha."]
SOME QUESTIONS FOR THE COMMENT SECTION BELOW
We encourage our readers to comment on the article above. Comments that don't directly relate to the topic will be removed. Please start a dialogue with us by focusing on one of the following questions:
1. What are you doing to get rid of your bad deeds? Is it working?
2. Do you think God will let you into Paradise? Why or why not?
3. Are you interested in trusting in Isa's sacrifice to pay for your sins?