Muslims and Christians both believe in forgiveness of sins. The difference is, in Islam, sins can be removed by doing good deeds. On the other hand, Christianity teaches that only Isa Al-Masih can forgive sins.
How can our sins be taken away forever so we can have true peace and assurance we're going to heaven? Find out in this article.
Islam: Good Deeds Wipes Away Sins
Islam teaches that people's good deeds can wipe away their sins. "… surely good deeds take away evil deeds …" (Qs 11:114).
"But, the sins that can be wiped away with good deeds are small sins, while big sins can only be forgiven with taubat nasuha," Ustad Abu Uthman Kharisman explained.
How can all our sins be forgiven?
What is Creation's Purpose?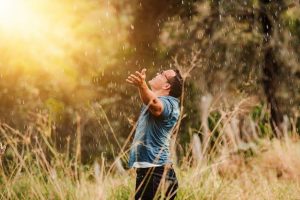 To answer this, we need to first look at the purpose of creation. Allah's purpose in creating human beings was for us to have a harmonious relationship with Him. This would happen by people obeying His commands and avoiding all He prohibited.
This meant living a 100% holy life, without any sin. Not just 51% or 75% or 98% holy.
When people sinned, the relationship that Allah intended them to have with him became ruined. Allah punished human beings for their sins. That's why Allah punished Adam and Eve even though they only committed one sin (Torah, Genesis 3:1-24).
Can Good Deeds Remove Sins?
When we take an exam at school, do our correct answers remove the wrong answers? No! That's not how it works. Our wrong answers prove that we messed up.
Let's say our good deeds are more than our small sins. This still means we have sinned! And it means that people aren't 100% holy as Allah intended when He created us. The punishment people deserve for their sins is hell.
Therefore, good deeds cannot remove sins. Instead, this shows us that we are not able to live holy lives like Allah wants and demands from us.
Can Isa Al-Masih's Death Wipe Away Sins?
Muslims and Christians agree that only Allah can forgive sins. Is Isa Al-Masih Allah? The Gospels say Isa Al-Masih "… was the Word … and the Word was Allah" (Injil, John 1:1).
"The Word [Isa Al-Masih] became flesh …" (Injil, John 1:14). And Isa Al-Masih is "… a righteous son" (Qs 19:19).
Because Isa Al-Masih is holy, He's worthy to be a substitutionary sacrifice in order to bear the punishment of our sins. This punishment is eternal death in hell. Through His crucifixion, "… He [Isa Al-Masih] appeared in order to take away sins …" (Injil, 1 John 3:5).
But, Isa did not stay dead. He rose again, defeating death (Injil, Mark 16:1-8).
Eternal Life for You
Only Isa Al-Masih, the Word of Allah, has the power to forgive all our sins through His death and resurrection. If you believe in Him, you will have the assurance to receive forgiveness and eternal life.
 If you have a question regarding this article, please contact us by clicking this link.
SOME QUESTIONS FOR THE COMMENT SECTION BELOW
We encourage our readers to comment on the article above. Comments that don't directly relate to the topic will be removed. Please start a dialogue with us by focusing on one of the following questions:
Why can't good deeds wipe away sins?
Why is Isa Al-Masih's crucifixion the only way to receive forgiveness for our sins?
Does the article change your understanding/motivation in doing good deeds? Share with us what you think.
[We invite you to visit us at http://www.isaandislam.com/way-of-salvation to learn more about Allah's gift of Salvation. Allah loves you and waits to hear from you. Jesus clearly said, "I am the way, the truth, and the life. No one comes to the Father except through Me" (Injil, John 14:6). For a deeper understanding of Jesus, we suggest you subscribe to "Isa, Islam, and Al-Fatiha" at this link.]