"Democracy is falling, Sharia is returning." Burka covered women carried signs with this slogan in Britain. Many Muslims believe that sharia is from Allah and is best for every society.
Yet, what would you think if someone caught in a crime were stoned or whipped to death as his punishment?
Four Aspects of Sharia That Downgrade Humanity
Sharia law legalizes at least these four inhumane acts:
1. Killing, crucifixion, hands or feet cut off
"… the penalty for those who wage war against Allah and His Messenger and strive upon earth [to cause] corruption is none but that they be killed or crucified or that their hands and feet be cut off from opposite sides…" (Qs 5:33).
2. Stoned to Death
Adulterers are stoned to death. "And when he had given command over her and she was put in a hole up to her breast, he ordered the people to stone her. Khalid b. al-Walid came forward with a stone which he threw at her head, and when the blood spurted on his face he cursed her …" (Muslim No. 4206).
3. Physical Revenge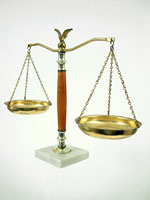 "… an eye for an eye, a nose for a nose, an ear for an ear, a tooth for a tooth, and for wounds is legal retribution …" (Qs 5:45). Recently, a man in Iran had his eyes removed because he had thrown acid on another man.
4. Killing Apostates
"The news of this event reached Ibn Abbas [Muhammad's cousin and highly reliable transmitter of traditions] who said, "If I had been in his place, I would not have burnt them, as Allah's Messenger forbade it, saying, 'Do not punish anybody with Allah's punishment (fire).' I would have killed them according to the statement of Allah's Messenger, 'Whoever changed his Islamic religion, then kill him.'" (Bukhari, No. 6922)
Maybe you think that these acts reduce crime. But we think these acts are also crimes. They aren't suitable for any society.
God's Greatest Commandment
Isa taught that the greatest commandment in the Taurat is, "'Love the Lord your God with all your heart and with all your soul and with all your mind.' … And the second is like it: 'Love your neighbor as yourself.' All the Law and the Prophets hang on these two commandments" (Injil, Matthew 22:37-40).
If we love God, we will love others as we love ourselves. Killing, stoning, and stabbing to death are not love.
We have all done things that go against God's law, and we deserve punishment. Yet God saved us from it. God sent Isa so that we can have eternal life. "For the wages of sin is death, but the free gift of God is eternal life in Christ Jesus [Isa Al-Masih], our Lord" (Injil, Romans 6:23). Isa wants to save you from death. Would you like to learn more about this?
[We invite you to visit us at https://www.isaandislam.com/way-of-salvation to learn more about God's gift of Salvation. God loves you and waits to hear from you. Isa clearly said, "I am the way, the truth, and the life. No one comes to the Father except through Me" (Injil, John 14:6) For a deeper understanding of Isa we suggest you subscribe to "Isa, Islam, and Al-Fatiha" at this link.]
SOME QUESTIONS FOR THE COMMENT SECTION BELOW
We encourage our readers to comment on the article above. Comments that don't directly relate to the topic will be removed. Please start a dialogue with us by focusing on one of the following questions:
1. Why do Muslims believe that Sharia Law must be applied to all nations?
2. What do you think about four acts above?
3. What are two greatest God's commandments? Are those four acts love? Why?
If you have a question regarding this article, please contact us by clicking this link.