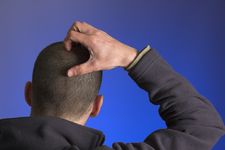 Robinson Crusoe, the character in the book with the same name, lived alone on an island for 28 years. During these years, he never met with anyone or talked with anybody. Without other humans, it was as if he was mute. From the point of view of ideas exchanged, he also seemed deaf.
The Tauhid Concept Makes God Silent
What about God? If God was alone before He created the world, as the Tauhid concept teaches, He couldn't talk or listen to anyone. Other people say, "God was silent in eternity. He didn't need to speak or hear." If He was silent in eternity before creation, then He never spoke or listened in eternity.
God is Incomplete if He Relies on Angels for Communication
Some Muslims say, "He created angels and talked to them." Does this mean that God depended on the angels for communication? Does this mean God is incomplete or imperfect without angels? Obviously, God was perfect before He created anyone, including angels.
The Trinity Concept Allows God to Interact
Without the Trinity, God would have acted as if He was mute and deaf before He created. In the Trinity, God the Father, God the Spirit, and God the Word interact with one another. They are three, but One. Their interaction with each other shows Christians how they should interact with each other.
The Trinity is impossible for us to understand as humans. Yet, it's easier to accept and believe in the Trinitarian God than the Tauhid God. It's difficult to believe that God in eternity acted mute and deaf.
The Oneness of God
Both Muslims and Christians believe in the Oneness of God. "So know that there is no god but Allah …" (Qs 47:19). "He is the First and the Last, …" (Qs 57:3). "… The Lord our God, the Lord is one" (Taurat, Deuteronomy 6:4). "I am the Lord, and there is no other; apart from me there is no God. … there is none besides me. I am the Lord, and there is no other" (The Prophet Isaiah 45:5-6). All of these verses teach that God is one!
Heaven or Hell?

A human's fate after death is hell or heaven. This should catch our attention more than the Trinity! If we want to go to heaven, we must be holy because God is Holy! "Holy, holy, holy is the Lord Almighty; the whole earth is full of his glory" (Taurat Isaiah 6:3).
How can we be holy? The only way is by believing Isa Al-Masih cleansed us from our sins through his sacrifice. Isa Al-Masih will make us holy and able to come before the Holy God!
[We invite you to visit us at https://www.isaandislam.com/way-of-salvation to learn more about God's gift of Salvation. God loves you and waits to hear from you. Isa clearly said, "I am the way, the truth, and the life. No one comes to the Father except through Me" (Injil, John 14:6) For a deeper understanding of Isa we suggest you subscribe to "Isa, Islam, and Al-Fatiha" at this link.]
SOME QUESTIONS FOR THE COMMENT SECTION BELOW
We encourage our readers to comment on the article above. Comments that don't directly relate to the topic will be removed. Please start a dialogue with us by focusing on one of the following questions:
1. What did God do in eternity before He created all things?
2. Does it diminish God's dignity to believe that God is dependent on His creation to speak or listen? Why?
3. Which one is more important, our soul's salvation, understanding the Trinity concept, or Tauhid & why?
If you have a question regarding this article, please contact us by clicking this link.