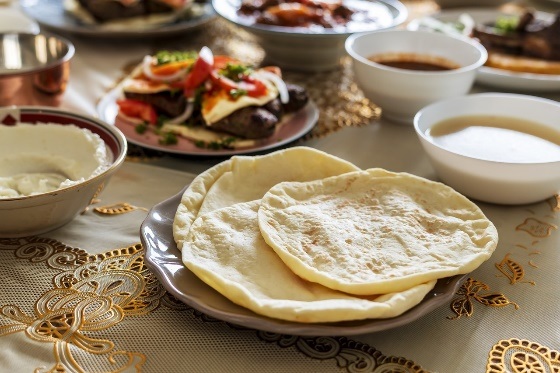 I met with my Iraqi friend for coffee.
"How's the family?" I asked.
"My five-year-old son was very upset today," he told me.
"What happened?" I asked.
"All the children at kindergarten were given ice cream as a treat, but he's not allowed to have one because it's not halal. He was so upset!"
I felt sorry for my friend's son. It makes me ask myself, "Would it really offend Allah if a five-year-old eats ice cream?" Have you ever eaten something haram? Does it make you wonder if Allah will judge you or accept you?
Haram Food in the Quran
The Quran states, "He has only forbidden to you dead animals, blood, the flesh of swine, and that which has been dedicated to other than Allah" (Qs 2:173).
But Muslim teachers assure us that, "There are acts you can perform to negate the negative effects of eating haram food, such as giving to charity. After all Allah is merciful," stated Sayed Mohammed Baqer Al-Qazwini, Al Rasoul Islamic Society.
Is it Really that Easy?
Islam teaches we can do good deeds to negate sins we have committed. But how can we be sure all our sins of failing to eat 100% halal food throughout our life have been adequately atoned for by our good deeds?
What's Most Important: Food or Sinful Actions?
Before we go further, let's gain a deeper perspective. Isa Al-Masih said,
"Don't you see that nothing that enters a person from the outside can defile them? For it doesn't go into their heart but into their stomach, and then out of the body." (In saying this, Jesus [Isa] declared all foods clean.)
He went on: "What comes out of a person is what defiles them. For it is from within, out of a person's heart, that evil thoughts come—sexual immorality, theft, murder, adultery, greed, malice, deceit, lewdness, envy, slander, arrogance and folly. All these evils come from inside and defile a person" (Injil, Mark 7:18-23). Do you agree with Isa's teaching? Tell us here.
So, you and I need to be much more concerned about what comes out of our heart than about the food that passes through our digestive system.
Can I Accept Food From a Christian?
Perhaps my Iraqi friend was afraid for his son to eat the ice cream because it was from a non-Muslim teacher. Do Muslims need to fear food from Christians or Jews?
"This day are (all) good things made lawful for you. The food of those who have received the Scripture is lawful for you, and your food is lawful for them . . ." (Qs 5:5).
"We need to ask two important questions. First, how will you deal with all the haram food you have eaten and will eat? Second, how will you deal with all your sinful thoughts and actions?
Followers of Isa don't need to worry about either question anymore because Isa has dealt with both through his death and resurrection. Contact us to learn how.
SOME QUESTIONS FOR THE COMMENT SECTION BELOW
We encourage our readers to comment on the article above. Comments that don't directly relate to the topic will be removed. Please start a dialogue with us by focusing on one of the following questions:
What do you do if you eat something haram?

Why is the content of your heart more important than what is in your stomach?

What kind of sinful things are in your heart and how do you plan to deal with them?
[We invite you to visit us at http://www.isaandislam.com/way-of-salvation to learn more about God's gift of Salvation. God loves you and waits to hear from you. Jesus clearly said, "I am the way, the truth, and the life. No one comes to the Father except through Me" (Injil, John 14:6). For a deeper understanding of Jesus, we suggest you subscribe to "Isa, Islam, and Al-Fatiha" at this link.]