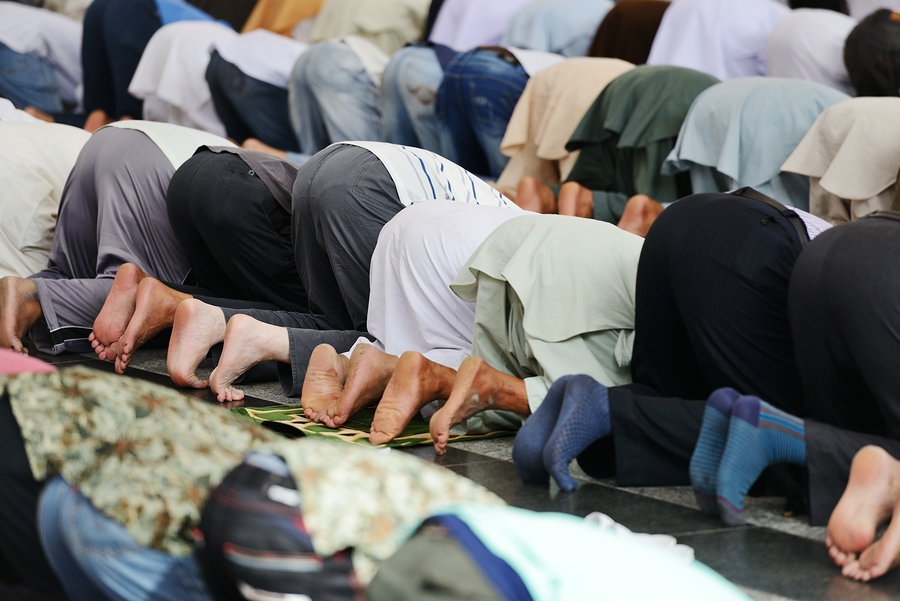 Good Muslims must recite ritual prayers (salat) five times a day in Arabic. Yet Islam teaches that God is not limited by language. So why must ritual prayers be said in Arabic? Muslims are also taught to pray toward Mecca because the "House of God" is there. If God is everywhere, why must Muslims pray toward Mecca? What exactly is the "House of God?"
The Mecca Prayer Direction
While Muhammad was in Medina, he noticed that the Jewish people prayed facing Jerusalem every day. So Muhammad told the Muslims to pray facing Jerusalem.
However, the Jewish did not accept Muhammad as a prophet. So Muhammad changed the direction of prayer toward Mecca. He said that the "House of God" (Ka'bah) was in Mecca (Qs 2:142-145, 149-150).
Does God Have a House in Mecca?
Muslims confess that God is everywhere. But, it appears that He is only in Mecca. If God does not live in a house, then why is the Ka'bah called "The House of God?"
Kissing the Black Stone During the Pilgrimage (Hajj)
Islam forbids Muslims from worshiping images. This goes against the Islamic creed, "There is no God but Allah." God's Book fully supports this. "You shall not make for yourself an image in the form of anything in heaven above or on the earth beneath or in the waters below" (Taurat, Exodus 20:4).
Do Muslims break this law when they bow toward the Ka'bah? What about when they kiss the Black Stone while saying, "We are fulfilling your call, O God?"
Prayer Direction and Prostration Are Unnecessary!
The Injil teaches that God does not have a house in this world. Heaven is His throne and the earth is His foot-stool (Acts 7:48-50).
Praying in a specific way or in a specific direction is not needed. God is wherever we are. The key to God hearing us pray is having a pure heart. The Psalmist wrote, "If I had not confessed sin in my heart, the Lord would not have listened" (Psalm 66:18, NLT). We must first confess our sin and have God cleanse our hearts (I John 1:7-9). Then God will hear us.
Where Does God's Spirit Dwell?
God's Spirit lives inside every person who receives Isa Al-Masih as his Savior. "Don't you know that your bodies are temples of the Holy Spirit? The Spirit is in you. You have received him from God. You do not belong to yourselves" (1 Corinthians 6:19).
We become God's temple when we ask Isa Al-Masih to forgive our sins. If you accept Isa as your Savior, you will be able to say, "My body is the Temple (House) of the Spirit of God."
[We invite you to visit us at https://www.isaandislam.com/way-of-salvation to learn more about God's gift of Salvation. God loves you and waits to hear from you. Isa clearly said, "I am the way, the truth, and the life. No one comes to the Father except through Me" (Injil, John 14:6). For a deeper understanding of Isa we suggest you subscribe to "Isa, Islam, and Al-Fatiha" at this link.]
SOME QUESTIONS FOR THE COMMENT SECTION BELOW
We encourage our readers to comment on the article above. Comments that don't directly relate to the topic will be removed. Please start a dialogue with us by focusing on one of the following questions:
1. If God is everywhere, why do Muslims have to pray toward Mecca?
2. Does God hear you if you don't pray in a specific form?
3. Where does God's Spirit live?
If you have a question regarding this article, please contact us by clicking this link.