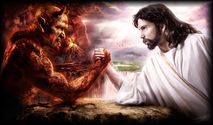 The evil in this world is real and powerful. People suffer from lies, rage, and murder. Families and communities are tormented and afflicted. The darkness in this world enslaves and imprisons countless people. Evil waits for you. The Injil tells us, "Your enemy the devil prowls around like a roaring lion looking for someone to devour" (1 Peter 5:8).
Where Does Evil Come From?
Where does evil come from? What is the source of our suffering and pain? Satan, the devil, is the source of all evil, pain, and suffering. Satan and his host of evil spirits are enemies of God and enemies of men. The Quran says, "…for Satan is to man an avowed enemy" (Qs 17:53). Satan wants to control you, hurt you, and keep you from God. Satan tricks and deceives. But you must know the truth in order to find protection from evil forces.
Only God Has Power over Satan
Since Satan is such a powerful being, how can men stand up to him? How can we protect our families and communities from his power? Only one person has ever had power over Satan and his host of demons. He is Isa Al-Masih. Satan does not want you know this truth! Satan will give you hope in things other than Isa Al-Masih. He will give you words that sound good. In the end they are only tricks and lies that lead to Hell.
Isa Al-Masih Has All Authority and Power over Evil
Isa Al-Masih performed many miracles. Many of them involved freeing people from evil forces. In an event recorded in the Injil, Isa commanded an evil spirit to come out of a man in the synagogue (Injil, Mark 1:23-27).
Are You Under Attack by the Forces of Darkness?
Are you under attack from the powers of darkness? Is your heart filled with fear, pain, anger, or hopelessness? God does not want man to suffer. God wants us to have victory and power over the forces of darkness. He wants our hearts to be filled with hope and courage. The Injil tells us, "But the Lord [Isa Al-Masih] is faithful, and He will strengthen you and protect you from the evil One" (Injil, 2 Thessalonians 3:3).
God gives a special peace that can only come through Isa Al-Masih. In the Injil, Isa Al-Masih told us, "Peace I leave with you; my peace I give you. I do not give to you as the world gives. Do not let your hearts be troubled and do not be afraid" (Injil, John 14:7).
The Giver of Life and Protector of Our Souls
Isa Al-Masih is the keeper of our earthly life, and the giver of eternal life. He protects our souls. The forces of evil and darkness have no power over us if we are in Him.
What does "In Him" mean? If you accept Isa Al-Masih as your savior, and believe that He paid the price for your sins by His death on the cross you will be saved. You will have life in Him. This is salvation. Isa Al-Masih died for you so you can live in Him. He calls to you. Let Him be Lord of your life. He will give you eternal life and protect you from the forces of darkness and the fear of death forever.
[We invite you to visit us at https://www.isaandislam.com/way-of-salvation to learn more about God's gift of Salvation. God loves you and waits to hear from you. Isa Al-Masih said, "I am the way, the truth, and the life. No one comes to the Father except through Me" (John 14:6). For a deeper understanding of Isa we suggest you subscribe to "Isa, Islam, and Al-Fatiha" at this link.]
If you have a question regarding this article, please contact us by clicking this link.