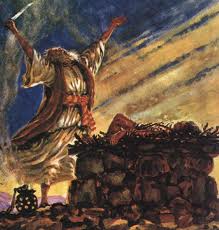 Abraham, Muhammad, and Isa Al-Masih all made sacrifices in Allah's name. Every Eid al-Adha Muslims remember Abraham's sacrifice by performing a special Salat and sacrificing animals.
Muhammad and Isa also made sacrifices. Whose is the greatest sacrifice?
Abraham's Willingness to Sacrifice His Son
Both the Qur'an and the Bible tell of Abraham's test from Allah. While there are some differences between the two versions, the main point is the same. Allah told Abraham to offer his son as a sacrifice, ". . . I have seen in a dream that I [must] sacrifice you . . ." (Qs 37:102).
Abraham obeyed, and as he was about to sacrifice his son, Allah commanded him to stop. Allah provided a ram instead. Then he, ". . . took the ram and sacrificed it as a burnt offering instead of his son" (Torah, Genesis 22:13).
Abraham was willing to sacrifice his son, but Allah provided another way.
Muhammad Sacrificed His Reputation
Muhammad also made some sacrifices for Allah. For example, a few of his relatives were killed in battles. Sometimes people harassed and slandered Muhammad.
However, Muhammad still had a decent life. He had eleven wives, a large amount of wealth, and many followers. Muhammad overtook many cities. Surely there is a greater sacrifice than this.
If you believe Abraham or Muhammad's sacrifice is the greatest, please email us and explain.
Isa Al-Masih Sacrificed Himself
Isa sacrificed most of his life. To begin with, he left heaven and came to earth to become a man. He was born in humble circumstances. Mary ". . . wrapped him in cloths and placed him in a manger . . ." (Injil, Luke 2:7).
Another example is when Isa said, ". . . but the Son of Man has no place to lay his head . . ." (Injil, Matthew 8:20).
But, Isa's greatest sacrifice was when he was tortured and crucified on the cross. ". . . he had Jesus flogged, and handed him over to be crucified . . . then twisted together a crown of thorns and set it on his head . . ." (Injil, Matthew 27:26, 29). Then, ". . . they crucified him . . ." (Injil, Luke 23:33).
Paul gives a summary of Jesus' sacrifices. ". . . He made himself nothing by taking the very nature of a servant . . . he humbled himself by becoming obedient to death, even death on a cross" (Injil, Philippians 2:7-8).
The result of this great sacrifice is that everyone who believes in Isa is guaranteed forgiveness of sins.
Clearly, Isa's sacrifice is the greatest because it guarantees forgiveness. It is worthy to be celebrated. If you believe there is a sacrifice greater than Isa's, please send us an email.
If you have a question regarding this article, please contact us by clicking this link.
SOME QUESTIONS FOR THE COMMENT SECTION BELOW
We encourage our readers to comment on the article above. Comments that don't directly relate to the topic will be removed. Please start a dialogue with us by focusing on one of the following questions:
After reading this article, which sacrifice do you feel is the greatest – Abraham, Muhammad, or Isa Al-Masih? Why?

Why do Muslims celebrate Abraham's sacrifice but not celebrate Muhammad or Isa's sacrifice?

How does Isa's sacrifice bring forgiveness of sins? Do you want to experience that forgiveness?
[We invite you to visit us at https://www.isaandislam.com/way-of-salvation to learn more about God's gift of Salvation. God loves you and waits to hear from you. Isa clearly said, "I am the way, the truth, and the life. No one comes to the Father except through Me" (Injil, John 14:6). For a deeper understanding of Isa, we suggest you subscribe to "Isa, Islam, and Al-Fatiha" at this link.]
If you have a question regarding this article, please contact us by clicking this link.