The story of Prophet Yahya (John) is unique. Why? The Quran and Injil agree he is different than other prophets! ". . . His name shall be Yaḥya: On none by that name have We conferred distinction before" (Qs 19:7).
Part of the story is that Allah made Zakariya, Yahya's father, mute! How come?
Knowing this story will help you understand why Yahya is considered so special. And we will understand his important message for all people, including you!
The Story of Prophet Yahya's Birth
For many years, Prophet Yahya's parents were unable to have children. But, Zakariya and his wife kept praying to Allah even when they were past childbearing age.
Allah answered their prayers and said they would have a son. Zakariya didn't believe Allah at first. He said, "O my Lord ! How shall I have a son, when my wife is barren And I have grown quite decrepit from old age?" (Qs 19:8).
Because of Zakariya's unbelief, Allah made it so he couldn't speak. ". . . thou Shalt speak to no man . . . although thou art not dumb" (Qs 19:10).
This demonstrates how special Prophet Yahya was. First, he was born from an old, barren woman. Second, Zakariya became mute because of unbelief.
Prophet Yahya's Mission
Prophet John's primary ministry was to declare Allah's revelation to his people. The Quran declares, ". . . God doth give thee glad tidings of Yahya witnessing the truth of a Word from God . . ." (Qs 3:39).
The Injil agrees. "And you, my child [Prophet John], will be called a prophet of the Most High . . . to give his people the knowledge of salvation through the forgiveness of their sins, because of the tender mercy of our God . . ." (Gospels, Luke 1:76-78).
Allah entrusted his Word to Prophet Yahya. The main purpose was that Allah wanted to declare his love for all people and for them to repent of their sins.
For those that repented, they were to be baptized. This was considered a sign of true repentance. "I baptize you with water for repentance . . ." (Gospels, Matthew 3:11). This is why he is called Prophet John the Baptist.
But, there is more to learn about why he was so special!
Prophet Yahya's Main Message
Ultimately, Prophet John was significant because the message he brought. " . . . among those born of women there has not risen anyone greater than John the Baptist" (Gospels, Matthew 11:11).
This is because he was given the most important task: to prepare the way for Allah. "And you, my child [Prophet John], will be called a prophet of the Most High; for you will go on before the Lord to prepare the way for him" (Gospels, Luke 1:76).
The meaning: Prophet Yahya was preparing the people to welcome the Messiah! This was his primary task and what made him so special.
The Injil declares: "John testified about him when he shouted to the crowds, 'This is the one I was talking about when I said, "Someone is coming after me who is far greater than I am, for he existed long before me"'" (John 1:15).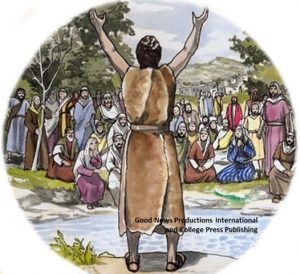 The Quran and Hadith confirm this when they say:
Isa Al-Masih is the foremost in this world and the world to come (Qs 3:45).
Isa is ". . . a Sign unto men and a Mercy from Us" (Qs 19:21).
Isa is the Kalimatullah, or Word of Allah. "Isa, the Spirit of Allah and His Word" (Hadith, Anas bin Malik 373).
It's clear why Prophet Yahya spoke to the people about Isa Al-Masih. Through Isa, we can know the way to Heaven. And Isa is the expression of Allah's mercy towards people.
Prophet Yahya wanted everyone to understand this.
The End of Prophet Yahya's Life
After completing his work, Prophet Yahya was killed. This happened because he rebuked King Herod about an unlawful marriage.
Prophet John said one more important thing before he died that we haven't shared. One day, Isa came to Prophet Yahya. With a loud voice, Prophet John proclaimed, "Look, the Lamb of God [a symbol of redemption], who takes away the sin of the world!" (Gospels, John 1:29).
Isa Al-Masih is the Expression of Allah's Mercy
Through the story of Prophet Yahya, we saw that Isa was the perfect expression of Allah's mercy. Through Him, we can be saved from our sin.
This is a true message for your life. Prophet Yahya's message applies to you!
If you trust Isa, you will receive Allah's mercy and forgiveness for all your sin!
SOME QUESTIONS FOR THE COMMENT SECTION BELOW 
We encourage our readers to comment on the article above. Comments that don't directly relate to the topic will be removed. Please start a dialogue with us by focusing on one of the following questions:
Why does the story of Prophet Yahya's birth show he is special?
How do you feel about Prophet John's primary task of preparing the way for Isa Al-Masih?
What do you think about Isa Al-Masih being Allah's expression of mercy towards people? Explain your answer.
 [We invite you to visit us at http://www.isaandislam.com/way-of-salvation to learn more about God's gift of Salvation. God loves you and waits to hear from you. Jesus clearly said, "I am the way, the truth, and the life. No one comes to the Father except through Me" (Injil, John 14:6). For a deeper understanding of Jesus, we suggest you subscribe to "Isa, Islam, and Al-Fatiha" at this link.]