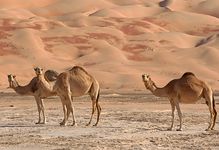 My husband and I lived for years on the edge of the Sahara desert working in the country of Chad. We saw camels everywhere because there are many nomadic groups in that region. Wherever you see nomads, you are going to see camels, because nomads love their camels.
Nomad Guests

One day we had guests in our home – a nomad chief and his friend. They told us something that let us know just how highly nomads think of their camels.
100 Names for God
Muslims say that there are 100 names for Allah, but only 99 names are known to man. The nomads believe that the camel is the only being who knows the 100th name of God. That is why camels have such a haughty look and always seem to be looking down on us!
God's 100th Name
When we look through the 99 names of God, many are magnificent and glorious names. As my husband and I thought about it, we realized that we also know what the camel knows. We too know the name of God that is missing from the list.
This name was prophesied in the Old Testament and had its fulfillment over 2000 years ago in the birth of a baby in Bethlehem. It's the name IMMANUEL—God with Us! "Therefore the Lord himself will give you a sign: The virgin will be with child and will give birth to a son, and will call him Immanuel." (Isaiah 7:14)
[We invite you to visit us at https://www.isaandislam.com/way-of-salvation to learn more about God's gift of Salvation. God loves you and waits to hear from you.]
If you have a question regarding this article, please contact us by clicking this link.