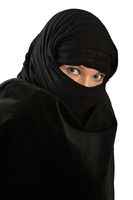 How did I become a Christian? What I experienced words can't explain, but I will try. I was born in the Middle East to a Muslim family. I did not know about Christianity and the Bible. The Quran taught me that Jews and Christians are infidels, and taught me that if I rejected Islam, I would also be an infidel.
Lonely and Depressed
I was 17 and depressed. I had just moved to a foreign country. I went for a walk, feeling like no one understood me. Across the street was a neighbor I had never met. Children happily went in and out of the home, so I shyly approached the door. A sweet lady answered. She lived alone, and yet she was peaceful and joyful. I saw joy in this woman that my mother did not have. She asked me if I went to church, and I told her I didn't. Then she asked me, "Do you know Isa Al-Masih?"
Someone Reaches Out
I was interested and curious. I asked her to tell me about Isa. In a few words, she told me about His life and His second coming. She gave me a Bible and a small booklet about Isa's second coming. I took them and rushed home. I felt I wanted to know Isa.
I entered my bedroom, closed the door, and opened the Bible. I held the booklet in my hands. I asked Isa, "Help me, I need help." I felt tired and weak, and I wanted to sleep, so I lay down and closed my eyes.
An Unusual Dream
I had a dream that I was alone outside, when all of a sudden the sky got dark. I looked up and saw it open. Through the opening, a bright light was shining. I saw a man wearing a white robe, standing in the middle of the light. Then He began to come toward me. On His right was a man in white, with white wings, riding a white horse, and on His left was another man like the one on the right, coming down behind Him. Then they all stopped. He looked down at me. My mind was telling me He was Isa. He said, "What do you want?"

I was surprised, and I did not know what to say. Then He said to me: "You will live another life." He spread His hands, and returned through the opening in the sky. I woke up, knowing that what I had seen was unusual. I couldn't forget it. I knew this person was Isa Al-Masih. I felt no one would believe me, so I kept it to myself. I went on with my life and tried to forget the dream.
I got rid of the booklet and the Bible after I kept them in my drawer for a while. I didn't want them to affect me. But I felt Islam wasn't benefiting me, and every time I read the Quran, I was down, uncomfortable, and afraid.
A Man on Television
Years passed by, and the dream continued to come back to me. One day, I was visiting my sister-in-law and we were watching television. We happened upon a Christian program. All of a sudden, the man on the program hesitated and said, "There is a lady watching. Her name is Seham. You are 33 years old. The Lord is going to work with you."
When I heard what he said, I was speechless! We looked at each other surprised. I told myself it couldn't be me! I am a Muslim. Maybe someone else has the same name and age. I tried to forget it.
"Why Don't You Seek Jesus?"
A few years later, I still felt helpless and without hope. All of a sudden, I had a thought: "why don't you seek Isa?" Another thought told me, "Go to a church. Find a church." I began driving, determined to stop at a church I had passed by many times. I found the church, and entered. I knelt down and said: "Isa, you did it for me." I gave my heart to Him. I was very sorry I waited so long to know Him. I felt a peace I had never experienced before, the barrier broke. My burdens and worries were gone, and I was set free. I felt Isa's love for me!
[We invite you to visit us at https://www.isaandislam.com/way-of-salvation to learn more about God's gift of Salvation. God loves you and waits to hear from you. Isa clearly said, "I am the way, the truth, and the life. No one comes to the Father except through Me" (Injil, John 14:6). For a deeper understanding of Isa we suggest you subscribe to "Isa, Islam, and Al-Fatiha" at this link.]
SOME QUESTIONS FOR THE COMMENT SECTION BELOW
We encourage our readers to comment on the article above. Comments that don't directly relate to the topic will be removed. Please start a dialogue with us by focusing on one of the following questions:
1. What do you do when you're discouraged and depressed?
2. What do you think of Seham's dream? Has Isa ever appeared to you?
3. Have you considered seeking Jesus?
If you have a question regarding this article, please contact us by clicking this link.