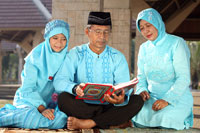 I was raised in a religious Muslim family. My parents taught us to love and respect each other. My father always repeated the saying: "Oh for God and parents to be pleased with me!" So pleasing God and my parents was very important to me. I had a normal life until my teenage years. I worshiped God like the rest of my family. Then I began to indulge in sinful practices.
Declining Health
My health declined quickly. I was destroying myself. I began to think I was at the point of no return. During this time I saw my grandfather fall to his death from a second floor window because he was drunk. I also saw the effects of drug addiction on my uncle.
Still a Sinner
Reading books and memorizing Arabic poems was one of my favorite activities. But I was still a sinner, separated from God. As a child I learned that God is forgiving and merciful. But He also punishes severely. I could not escape His anger because of my sin. But God's love found me and brought me back onto the true path before it was too late.
God Provided a Sacrifice
At first, I didn't understand how God had provided the sacrifice for my sins. Of course I had read some things about Isa Al-Masih, but my information was not complete until I found a Bible in Arabic. Through lots of research I found that the Bible was translated from the old manuscripts, even older than the Al-Quran, which are still available. Even more importantly, I found that the Bible is God's Truth for the whole world.
I learned about God's personal love for me as a sinner. I read about Christ's death as the sacrifice for my wrongs. I also learned that I could receive forgiveness for my sins if I accepted this Truth and trusted in Isa Al-Masih.
Struggles Between the Truth and the Past
I had a great struggle between the things I had learned at home and the Truth I found in the Bible. I was convicted of my sins. I wanted a pure life. In my search for Salvation and forgiveness I found the Savior. He was ready to set me free from sin. If God Almighty had prepared the way for my salvation and the redemption of my sins – why not accept it?
A New Life
I believed in Isa Al-Masih with my heart and prayed, asking Him to forgive my sins. I asked Him to change me and make me new. I thank Almighty God that He answered my prayer.
I now enjoy God's true acceptance and the privilege of having a personal relationship with Isa Al-Masih. My life has become meaningful. Before, I thought I wasn't going to live long, but now I want to live and honor the One who loved me. He gave His life for me as the sacrifice for my sins to set me free and to cleanse me. Now I can know and enjoy God's pleasure and care.
[We invite you to visit us at https://www.isaandislam.com/way-of-salvation to learn more about God's gift of Salvation. God loves you and waits to hear from you. Isa Al-Masih said, "I am the way, the truth, and the life. No one comes to the Father except through Me" (John 14:6). For a deeper understanding of Isa we suggest you subscribe to "Isa, Islam, and Al-Fatiha" at this link.]
SOME QUESTIONS FOR THE COMMENT SECTION BELOW
We encourage our readers to comment on the article above. Comments that don't directly relate to the topic will be removed. Please start a dialogue with us by focusing on one of the following questions:
1. What did he learn about God when he was still a Muslim?
2. What was his struggle as he studied the Bible?
3. What does he have now that he has asked Isa to forgive him?
If you have a question regarding this article, please contact us by clicking this link.