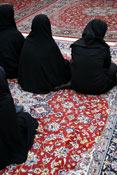 The majority of Muslims in the Islamic Republic of Iran are Shiite Muslims. Only fifteen percent of the world's Muslims are Shiite. Most of them live in Iran. Iranian law is based on Sharia law. Sharia is, in many ways, unfair to women and non-Muslims. It is oppressive, using fear to control people. As a result the people of Iran, especially the women, have limited freedom.
From Iran to the Dominican Republic
Adilah was a young Muslim Shiite Iranian woman. She found herself across the ocean in the Dominican Republic. The Dominican Republic is on a beautiful island in the Caribbean. It is predominately Christian and the people there speak Spanish. Adilah could not have been further from the land of her birth, and the law and religion of Iran.
Depression and Thoughts of Suicide
While in the Dominican Republic she fell into a deep depression. She was in a strange land with a strange language, alone and lost. The depression got so bad she thought of suicide.
Isa Al-Masih Visits Adilah in a Dream
Before Adilah could kill herself, Isa Al-Masih appeared to her in a dream. He told her to not commit suicide but go to a church instead.
She went to a church and told the pastor the reason for her visit. Because of the dream, she was very open to learning more about Isa Al-Masih. The pastor shared the message of the Injil with her. When the pastor told Adilah about Isa Al-Masih, she opened her heart to Him. She was filled with joy hearing the truth of the Injil. She believed the words of Isa Al-Masih and experienced salvation from sin.
The Salvation Miracle
Adilah told the Pastor how amazing it was that God had led her to the only church in the Dominican Republic where the Pastor knew Persian, her language. The pastor was surprised by her statement. He finally realized what was happening. He told her that he could not speak Persian. The only language he knew was Spanish! A miracle of God just happened.
After each of them realized the miracle that just took place he could no longer speak Persian. They could no longer communicate.
A Similar Miracle Recorded in the

Injil
A similar miracle happened thousands of years ago. There was once a large group of people from different countries gathered in Jerusalem. The Holy Spirit caused each man to hear Peter and the other apostles of Isa Al-Masih speak in their own language. "…a crowd came together in bewilderment, because each one heard their own language being spoken. Very amazed, they asked: "Aren't all these who are speaking Galileans [Galilea is a province in Northern Palestine]? Then how is it that each of us hears them in our native language?" (Injil, Acts 2:6-8). Many of those who witnessed this miracle believed and received salvation that day.
Isa Al-Masih Waits for You to Call to Him
Are you a Muslim who feels lost and alone? Are you suffering from depression? Call to Isa Al-Masih just like Adilah did. Isa Al-Masih will save you. Salvation in Isa Al-Masih brings peace and joy to those who believe. Call to Him and He will answer. He wants you to know the love of God that is in Him. He wants you to have eternal life.
[We invite you to visit us at https://www.isaandislam.com/way-of-salvation to learn more about God's gift of Salvation. God loves you and waits to hear from you. Isa Al-Masih said, "I am the way, the truth, and the life. No one comes to the Father except through Me" (John 14:6). For a deeper understanding of Isa we suggest you subscribe to "Isa, Islam, and Al-Fatiha" at this link.]
SOME QUESTIONS FOR THE COMMENT SECTION BELOW
We encourage our readers to comment on the article above. Comments that don't directly relate to the topic will be removed. Please start a dialogue with us by focusing on one of the following questions:
1. Why did Adilah go to church?
2. What happened when she spoke with the pastor?
3. What does Isa want you to do?
If you have a question regarding this article, please contact us by clicking this link.