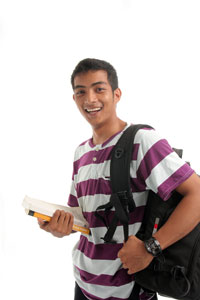 As a young person I read the Qur'an regularly and believed everything my parents taught me about Muhammad. I said the Salat and went to the mosque consistently. But then I began to question whether or not the things I had been taught about Isa Al-Masih were true.
Investigating Isa Al-Masih and the Injil
I met a friend at the University who began investigating the life of Isa Al-Masih and the Injil. I soon realized that the Injil was actually a very trustworthy document. The Injil did say many things that I had not been taught. One was that Isa Al-Masih was the way to Allah. I had to listen to what Isa Al-Masih said about His life. He said that he would take the punishment for my sins upon Himself in order to make a way for me to get into Heaven.
I Must Carry My Sins on Judgment Day
I didn't believe this at first. I always believed that I was going to carry the burden of my sins. I believed that on Judgment day I would stand before God with no one to intercede for me. As my friend and I studied the history of the Injil we saw that Isa Al-Masih was placed on the cross. This was opposed to what we believed from the Qur'an. He did die on the cross and rise from the dead. The Injil tells us, "Jesus called out in a loud voice, 'Father, into your hands I commit my very life.' After he said this, he took his last breath" (Injil, Luke 23:46).
The Injil is a Trustworthy Document
My parents always taught me that the Injil could not be trusted. They said it had been corrupted. I was taught that many things in the Injil had been changed when it was translated. But as I carefully studied, I found that there are thousands of ancient copies of the Injil. It says the same thing now that it said thousands of years ago when it was first written. The Injil showed me a picture of Isa Al-Masih that I did not get from the Qur'an or the Hadith.
Who is Isa Al-Masih?
As I realized this, I started asking, "Allah, tell me who you are, and who Isa Al-Masih is?" I wanted to know who I should follow. As I cried out to Allah He started pouring into my life dreams and visions which slowly led me to believe that the way of Isa Al-Masih is the true way. I should accept Him for the forgiveness of my sins. In 2005 I gave my life to Isa Al-Masih and since then I have been filled with peace and joy. Now I go around sharing this joy and peace. I tell everyone who will listen what it means to be free from sin and the fear of hell.
[We invite you to visit us at https://www.isaandislam.com/way-of-salvation to learn more about God's gift of Salvation through Isa Al-Masih. God loves you and waits to hear from you. Isa Al-Masih said, "I am the way, the truth, and the life. No one comes to the Father except through Me" (John 14:6). For a deeper understanding of Isa we suggest you subscribe to "Isa, Islam, and Al-Fatiha" at this link.]
SOME QUESTIONS FOR THE COMMENT SECTION BELOW
We encourage our readers to comment on the article above. Comments that don't directly relate to the topic will be removed. Please start a dialogue with us by focusing on one of the following questions:
1. What the Injil say about Isa that was different from what he'd been taught?
2. What made him believe that the Injil can be trusted?
3. How was he sure that following Isa Al-Masih was right?
If you have a question regarding this article, please contact us by clicking this link.