I grew up in an Islamic setting, surrounded by Muslims. As an adult, I was a typical Muslim, very enthusiastic about my religion and culture. I was proud of my identity.
I started a business, but it eventually went bankrupt. I sold everything and left the country, leaving my debts behind.

A Seed that Challenged Me
In my new country I lived with a Westerner. My Arabic friend and I tried to covert him to Islam. One day he asked me: "Do you believe that God is all powerful and that nothing is impossible for Him?" I replied: "Yes, of course!"
He asked, "Would it then be impossible for Him to come to earth and take human form?"
Before I could answer him, somebody came. We had to change the subject. The topic never came up again, but deep in my heart a seed was sown.
Greed Leads to Despair

I started another business and succeeded. But I gambled and made enemies. I fled again to another country.
In this country, I sometimes had to sleep in the street and went hungry. I went to the mosque to try to make peace with Allah. But my Muslim brothers turned their backs on me. I thought about committing suicide.
A New Idea and Some New Friends
An acquaintance suggested I look for some Christians. He told me they would help me and even provide a job for me. Despite my attitude against Christianity, I decided to follow my friend's advice.
One Sunday morning, I found a church in the newspaper and went. Within a few weeks I had made several friends. My bad attitude toward Christians began to change. But I still thought about converting them to Islam.
After visiting the church for awhile, I decided I wanted to become a follower of Isa Al-Masih. But on the inside I was still a Muslim and the same old person.
Job as a Janitor
I was looking for a job and the church needed a janitor. The pastor asked me to fill the position. I also lived at the church and began studying the Bible. I thought that if I learned the Bible well, it would be easier to lead my Christian friends to Islam.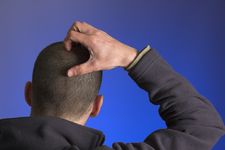 Confusion in My Soul
I saw the differences between Christianity and Islam were very deep. These two religions could not be from the same source.
I had many doubts. But I decided to find the truth. I fasted for three days in a row and for the first time I asked Allah to reveal the truth to me.
Speaking Out, Asking for Help
All my life I had been taught, "He [Allah] begets not nor was He begotten" (Qs 112:3). So I needed to know for sure that Isa Al-Masih was Allah.
I decided to talk to the pastor. I told him I couldn't find anywhere in the Bible that talked about Isa Al-Masih being God or about Allah being triune. Immediately, he told me to look at John 10:30-33, I John 5:8-12, and I John 5:20. "They [the Jews] replied, 'We're stoning you not for any good work, but for blasphemy! You, a mere man, claim to be God'" (Injil, John 10:33).
A couple days later, I decided to renounce Islam and put my faith in Isa Al-Masih. The next morning, I called my pastor and told him about my decision. This time my confession was real.
Isa, My Redeemer
If Isa hadn't saved and protected me, I would be destroyed without hope. He saved me and has given me a new and abundant life, full of hope, peace and joy.
[We invite you to visit us at https://www.isaandislam.com/way-of-salvation to learn more about God's gift of Salvation. God loves you and waits to hear from you. Isa Al-Masih said, "I am the way, the truth, and the life. No one comes to the Father except through Me" (John 14:6). For a deeper understanding of Isa we suggest you subscribe to "Isa, Islam, and Al-Fatiha" at this link.] 
SOME QUESTIONS FOR THE COMMENT SECTION BELOW
We encourage our readers to comment on the article above. Comments that don't directly relate to the topic will be removed. Please start a dialogue with us by focusing on one of the following questions:
1. Who and what encouraged Al-Gharib to seek the truth?
2. What is the difference between saying you are a Christian and truly becoming one?
3. What proof do we find in the Bible that Isa is Allah?
If you have a question regarding this article, please contact us by clicking this link.