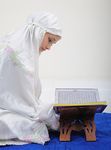 I was born into a very religious Muslim, Moroccan family. I was brought up in a purely traditional Islamic way. Since adolescence, I had a burning desire to be a good Muslimah (Muslim woman). I wanted to be an example in the eyes of Allah.
I rejected anything and everything concerning Jews and Christians. The mere sight of a cross revolted me. At 16, I met a cute guy at a French school. He talked to me about Isa and gave me a copy of the Injil of John to read. I was very defiant, but I had overwhelming feelings for this boy. I accepted the Injil and decided to read it secretly, because if my parents found out, they would severely reprimand me.
A Complete Awakening
Reading the first chapter overwhelmed my heart so much that I knew it was the Book of God. Isa was the truth! That was a complete awakening for me. It was completely against everything I had learned in Islam.
I understood that God loves every human being without exception. I continued my discovery when I found a calendar with verses from the Injil on it. The verses said we can talk to God as a father. I experimented with this. Every evening before I went to sleep, I talked to God. I felt with certainty that a presence filled my heart that was very different from when I recited my Muslim prayers. This experience really affected me. Time passed and I developed a firm belief that Isa Al-Masih was the son of God, and that the Injil was the truth. I was not yet aware of the sacrifice of Isa.
An Anonymous Phone Call
One evening when I returned home, I found my mother in my room. She had found out through an anonymous phone call that I was going out with a non-Muslim French boy. This was a real shock for both of us. I cried and even thought about not reading my Injil or talking to God anymore. For me, everything was finished, even my relationship with this boy. But I did not count on the will of the Lord to save me.
Marriage!
The following Monday, the boy's father called my parents and asked to meet them. During this meeting, I prayed from the bottom of my heart. God blessed me when my mother came back from the meeting talking about marriage. I was very happy! We were married soon after this.
We prayed that evening, but we did not go to church, and there was no real repentance from sin. The enemy had sown trouble in our life and I contemplated divorce. But my husband and I knew that divorce would not please God, so we contacted a church. My husband started going, but I did not. One day, God in his love sent me to a house of prayer. While there, I really repented of my sins, and that was the beginning of my relationship with Isa Al-Masih. We were baptized in 1996 and I am very happy to know the truth and follow Isa. In retrospect, I realize how great our God is and how much he loves us. He never abandoned me.
[We invite you to visit us at https://www.isaandislam.com/way-of-salvation to learn more about God's gift of Salvation. God loves you and waits to hear from you. Isa clearly said, "I am the way, the truth, and the life. No one comes to the Father except through Me" (Injil, John 14:6). For a deeper understanding of Isa, we suggest you subscribe to "Isa, Islam, and Al-Fatiha" at this link.]
SOME QUESTIONS FOR THE COMMENT SECTION BELOW
We encourage our readers to comment on the article above. Comments that don't directly relate to the topic will be removed. Please start a dialogue with us by focusing on one of the following questions:
1. Do you identify with Malika's story in any way? If so, how?
2. Have you ever read the Injil? What is keeping you from doing so?
3. Would you be willing to experiment with prayer the way Malika did? Why or why not?