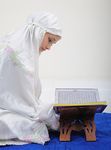 I testify that what you are about to read is true and correct to the best of my knowledge. I grew up in a strict Muslim home. My parents met when my father was in Brazil on a trip. They got married and my mother became Muslim. They settled in Los Angeles, where I was born less than a year later.
Muslim Teachings Bother Me
I believed everything I learned about Islam and felt Islam was superior to all religions. As I grew, some of the teachings began to bother me, like being all covered up. The teaching that bothered me most was the status of women in heaven. As a teenager, I thought. "I don't want to be in heaven in some strange man's harem." Just the thought gave me shivers. No, I definitely knew I did not want to go to that heaven.
Marriage
At eighteen, I married my first cousin to please my family. I always wanted to please them, especially my father. I had never attended a high school dance or dated anyone because it was against my father's wishes. Yet two months out of high school, I was married. To my dismay, not even this pleased my father.
My Husband's Business
My husband started a business selling clothes at state fairs. We traveled through many different states. We slept in hotels and worked long days. One day, I was very sick. I was so dizzy, I stayed in the hotel room, while my husband and John worked the fair. I began thinking about how miserable my life was. I was so unhappy. I missed my child. We were losing $400 a day, yet we were bound by state fair contracts. I grabbed the remote control and turned on the TV, looking for something to get my mind off my problems.
The TV Talks to Me!
I began crying and threw down the remote control. The TV switched channels by itself. I heard a man on TV say something about Jesus. He said "You're feeling confused because you've got so many problems." I agreed and said, "Yes I'm confused and I've got so many problems." Then he said, "You're crying and you're desperate." And I replied, "Yes, I'm crying and desperate." I sat up to look at the man. Then he shouted, "You just sat up!" I began to cry even more while I put my hands up to my face and shook my head. Then he told me what I was doing again! He was talking to me! Then he pointed straight at me and said, "Woman, Jesus is your answer! Come to the TV!" Without thinking, I leapt from the bed, and ran to the TV. He said, "Quickly there's no time to waste, put your hand up to mine and repeat after me." He then began what I know today as "the sinner's prayer." Somehow, I knew this was the way to God. Then, a feeling of love I had never known overwhelmed me.
The Holy Spirit as My Teacher
I continued to grow in my new faith. One day in prayer, I asked God who the Holy Spirit was. He answered very clearly "1 Corinthians 2:12-16." I said "God, I don't understand." He then repeated the same answer and told me to open my Bible. I soon found it and read: "What we have received is not the spirit of the world, but the Spirit who is from God, so that we may understand what God has freely given us. This is what we speak, not in words taught us by human wisdom but in words taught by the Spirit, explaining spiritual realities with Spirit-taught words" (1 Corinthians 2:12-16).
After reading that, I said, "You mean the Holy Spirit is my teacher?" I heard very clearly, "Yes." You see, I wasn't allowed to go to church. My father had disowned me and my husband persecuted me daily. God himself took care of me and every time I had a question, he told me where to look in the Bible.
To this day, I claim Jesus as my Savior. And heaven, yes I want to be in heaven with Jesus, where I will praise the best friend I have ever had. It took two years for God to answer me, and it was His perfect timing.
[We invite you tovisit us at https://www.isaandislam.com/way-of-salvation to learn more about God's gift of Salvation. God loves you and waits to hear from you. Isa clearly said, "I am the way, the truth, and the life. No one comes to the Father except through Me" (Injil, John 14:6). For a deeper understanding of Isa we suggest you subscribe to "Isa, Islam, and Al-Fatiha" at this link.]
SOME QUESTIONS FOR THE COMMENT SECTION BELOW
We encourage our readers to comment on the article above. Comments that don't directly relate to the topic will be removed. Please start a dialogue with us by focusing on one of the following questions:
1. Are there Muslim teachings that bother you? Why?
2. Has God ever spoken to you in a strange way?
3. Do you want to go to heaven, or are you afraid of it, as this woman was at the beginning? Why or why not?
If you have a question regarding this article, please contact us by clicking this link.