My name is Khadija. I was born in a nominal Muslim family. I had a grandmother who was handicapped, and she wanted some of us to live with her. So I was sent to her mountain village to take care of her.
Living with Grandma
My grandmother's village was large, but everyone knew each other, and it was part of our culture to share both good and bad times with each other. Some of my biggest memories are attending funerals with my grandmother. I couldn't analyze many things, but each time the mullah spoke, it was clear to me that if you did not follow Islam and do good deeds, you were going to hell. I started to seriously think about this. I wanted to please Allah.
A Devoted Muslim
When I was 8, I started to learn Arabic prayers. This made my grandmother happy because she was a devoted Muslim. I hoped that maybe now I could think about death, Allah, and life after death without a paralyzing fear.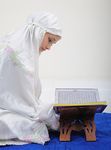 Practicing Islam did not help my fear the way I had hoped. I couldn't think about judgment day without being terrified. In my heart, I knew I wasn't perfect, but unconsciously, to protect myself from this fear, I became more judgmental towards others. I put on a strong, defiant face, but inside I was very sensitive. I preferred reading and writing poems.
When I was 17, I went to study at a university in our capital city. I joined my two older sisters, who were already studying there. Some of the teachers were Christians, as well as one of my friends. The teachers invited students into their homes to sing together, drink tea, and talk about Jesus. My friend had some tapes with Christian songs and I really liked them. I asked her to find a song without the word "Jesus" in it. We found one and I learned it by heart.
I Met Real Christians
I was very shy, but finally decided to go with my friend to a Christian's house. I had never met real Christians. I really liked these people. I could tell they were happy, and the songs were beautiful. I started to really enjoy time with them, but I still did not like to hear about Jesus and I started to feel unfaithful to Allah.
One day, I decided I would not go anymore. That evening, when I was preparing for my Muslim prayers, an inexplicable presence of someone filled me. I was afraid and asked, "Who is it?" The answer was, "Jesus, Jesus." I tried to ignore it, as I thought it was the devil trying to tempt me away from Allah. I prayed an Arabic prayer to cast him away, but it didn't help. I finished my
preparations and went to pray. But the presence covered me again. That night I couldn't sleep. I was confused. I covered my head and read a special Arabic prayer for sleeping, but it didn't help. I sat on my bed and said "I see that that there are two of you. Allah if you are the right God, help me. Jesus, if you are the right one, do something." After that, I fell asleep. The next day, I woke up with a strong desire to know more about Jesus. I decided to go to the Christians' house to ask questions, but I had no idea what to ask.
When I arrived, I told them needed to talk to them. They were very open and friendly. I was quite nervous and didn't know what to ask. I started to cry and couldn't stop. They started to ask me questions about Jesus. I was surprised that I knew the right answers. I had no idea how I knew them. That day I repented of the bad things I had done before Jesus. It has been 13 years since I met Jesus. He took away my fears. The more I know Him, the more I dream about the day when I'll see Him. As the Bible says, "This is how love is made complete among us so that we will have confidence on the day of judgment: In this world we are like Jesus. There is no fear in love. But perfect love drives out fear, …" (1 John 4:17-18).
[We invite you to visit us at https://www.isaandislam.com/way-of-salvation to learn more about God's gift of Salvation. God loves you and waits to hear from you. Isa clearly said, "I am the way, the truth, and the life. No one comes to the Father except through Me" (Injil, John 14:6). For a deeper understanding of Isa we suggest you subscribe to "Isa, Islam, and Al-Fatiha" at this link.]
SOME QUESTIONS FOR THE COMMENT SECTION BELOW
We encourage our readers to comment on the article above. Comments that don't directly relate to the topic will be removed. Please start a dialogue with us by focusing on one of the following questions:
1. Are you afraid of judgment day? Why or why not?
2. Is Islam satisfying you?
3. Will you trust Jesus and allow him to take away your fears?
If you have a question regarding this article, please contact us by clicking this link.