I love the song Butterfly Kisses by Bob Carlisle: "She was sent from heaven and she's daddy's little girl … for butterfly kisses after bedtime prayer; sticking little white flowers in her hair…" Truly, little girls are made of sugar and spice and everything nice!
Picture your daughter or granddaughter as a small child. See her smile, her simple trust, her innocence and pure joy. Doesn't it warm your heart? There's something about little girls (and little boys, too) that touch us deeply.
Something Is Wrong
So who puts these innocent children at risk? Don't we call child abusers "predators" because they prey on the innocent? No one cringes when they're given long prison sentences. And prison is a very dangerous place for these people because hardened criminals have such a hatred for them. Even they know that having sex with children is wrong and against natural law.
Isa Al-Masih Blesses Little Children
One day some parents brought their children to Isa so he could bless them. But his disciples scolded the parents for bothering him. When Jesus saw what was happening, he was angry with his disciples. He said to them, "Let the children come to me. Don't stop them! For the Kingdom of God belongs to those who are like these children. I tell you the truth, anyone who doesn't receive the Kingdom of God like a child will never enter it." He then took the children in his arms, placed his hands on them, and blessed them (Injil, Mark 10:13-16).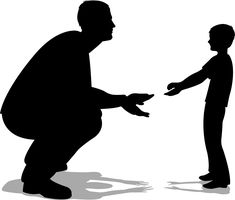 Isa's love for children was so great, he warned that if anyone sins against one of these little ones who trust in him, it would be better for that person "to have a millstone tied around his neck and drowned in the depths of the sea" (Injil, Matthew 18:6). What an extreme warning to those who abuse little children!
In ancient Roman culture, it might have been acceptable to abuse children, but Isa did not live by the culture of his day!
Is Muhammad a Role Model?
The Quran calls Muhammad an "excellent example" of conduct, and "an exalted standard of character" (Qs 33:21, 68:4). Note Qs 7:157: "He commands on them what is just and forbids them what is evil … prohibits … what is bad." He's called the "role model par excellence." A good Muslim, in every aspect of his life, must try to model himself after Muhammad.
Muhammad Marries a Six-Year-Old Girl
All Muslims accept this Hadith, "The Prophet wrote the (marriage contract) with Aisha while she was six years old and consummated his marriage with her while she was nine years old and she remained with him for nine years [i.e., till his death]" (Bukhari 7.62.88).
At nine she leaves her dolls, games and play-friends and is defiled by a 54-year-old man. Can you picture this man having sex with this nine-year-old child?
It's true that child marriages were a cultural practice in Arabia at the time of Muhammad. But why should we live according to the cultural practices of seventh century Arabia? Why didn't Muhammad, like Isa, stand against this terrible cultural practice? He could easily have had someone adopt the child. He certainly didn't need another wife. He already had more than 10.
Should Muhammad Be Our Role Model?
Muslims, using Muhammad as an example, still take young girls as brides. Recently, I read of an eight-year-old Yemeni girl who reportedly died after suffering internal injuries on the first night of her arranged marriage to a man five times her age. A recent award-winning film, titled Osama (available on Netflix), exposes this terrible and abusive Muslim practice, detailing the trials of young child brides in Afghanistan.
Do Muslims agree, based on the actions of Muhammad, to the defiling of young girls? Do they support stripping a child of a happy childhood? Do they think it's o.k. to take her from swings and dolls and butterfly kisses?
Who should we choose as a role model? Compare Isa's treatment of children with Muhammad's. Should we protect the childhood of young girls? Which role model do you support?
A True Role Model
Christians and Muslims know that Isa lived a perfect, holy life, making him the perfect role model for the world! He is also the perfect Savior because only his holy life and sacrificial death could pay the debt for our wrong doing before a holy God.
God wants to save us from our wrong desires and terrible deeds. He wants to give us a new heart through Isa. "If anyone is in Christ [e.g., trusted in Isa] he is a new creation; the old has gone, the new has come" (Injil, II Corinthians 5:17).
[We invite you to visit us at https://www.isaandislam.com/way-of-salvation to learn more about God's gift of Salvation. God loves you and waits to hear from you. Isa clearly said, "I am the way, the truth, and the life. No one comes to the Father except through Me" (Injil, John 14:6). For a deeper understanding of Isa we suggest you subscribe to "Isa, Islam, and Al-Fatiha" at this link.]
SOME QUESTIONS FOR THE COMMENT SECTION BELOW
We encourage our readers to comment on the article above. Unfortunately, comments that don't directly relate to the topic will need to be removed. Please start a dialogue with us by responding to one of the following questions:
1. Why is it reasonable for Muslims and others to reject Muhammad as a perfect role model?
2. Are there any ways that Muhammad was a better role model than Isa?
3. What changes would be made in Islam if people stopped using Muhammad as a perfect role model for their lives?
If you have a question regarding this article, please contact us by clicking this link.