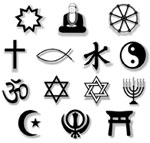 There are 12 major world religions. In every religion there are sects. Within these sects there are many teachings.
There are thousands of belief systems. Wouldn't it be tragic if we didn't find out we were following a false teaching until after we died? How can we know we are following false teachings?
Factors That Do Not Determine Truth
Here are some factors that do not determine if a teaching is true. First, a large number of followers doesn't determine truth. Most people living before 1860 believed that slavery was acceptable. Now almost everyone rejects slavery.
Some follow a teaching because many intelligent people follow it. But there are smart people in every religion. This isn't a determining factor.
Others follow a religion because their parents followed it. Teachings passed down for generations are not necessarily true. We should personally seek out truth.
Factors That Determine Truth
Here are some factors that help determine if teachings are true. First we must look at the example of the founder.
Was the founder an upright person? Did he perform miracles? How did he treat his enemies? What was his marriage like? Did he fulfill prophecies?
Let's consider the founders of Christianity and Islam. Isa Al-Masih performed many miracles. He raised people from death. He showed love for his enemies. He never sinned. He fulfilled about 300 prophecies.
The founder of Islam did not perform any miracles. Sometimes he was cruel to those who opposed him. He had eleven wives. He asked for forgiveness for sins. He did not fulfill any prophecies. Please email us with proof if any of this is untrue.
Other Important Factors
We need to study the holy books – especially the Taurat, Zabur, and Injil – to find the truth.
If we ask Allah to "show us the straight way" (QS 1:6) with an honest heart, he will help us find truth. We must not just repeat a memorized phrase. We must pray believing Allah will answer us.
Here is what Isa said about truth: "I am the way the truth and the life. No one comes to the Father except through me" (Injil, John 14:6).
Allah has answered the prayer of many people who have honestly prayed – "show me the straight way." Some have had a dream or vision, and Isa revealed Himself. They are now following Him.
We urge you to consider following Isa – the straight way, the only way to heaven. Please email us if you would like to learn about following Isa.
SOME QUESTIONS FOR THE COMMENT SECTION BELOW
We encourage our readers to comment on the article above. Comments that don't directly relate to the topic will be removed. Please start a dialogue with us by focusing on one of the following questions:
Have you ever wondered if the teachings you believe are true? Have you ever honestly researched this subject?

What do you see as determining factors in seeking for truth? How do the Prophet of Islam and Isa Al-Masih differ in this regard?

Are you willing to honestly pray that Allah reveal to you the straight way? Are you ready to receive the answer that Allah reveals to you? We are here to help you with any questions.
[We invite you to visit us at https://www.isaandislam.com/way-of-salvation to learn more about God's gift of Salvation. God loves you and waits to hear from you. Isa clearly said, "I am the way, the truth, and the life. No one comes to the Father except through Me" (Injil, John 14:6). For a deeper understanding of Isa, we suggest you subscribe to "Isa, Islam, and Al-Fatiha" at this link.]
If you have a question regarding this article, please contact us by clicking this link.