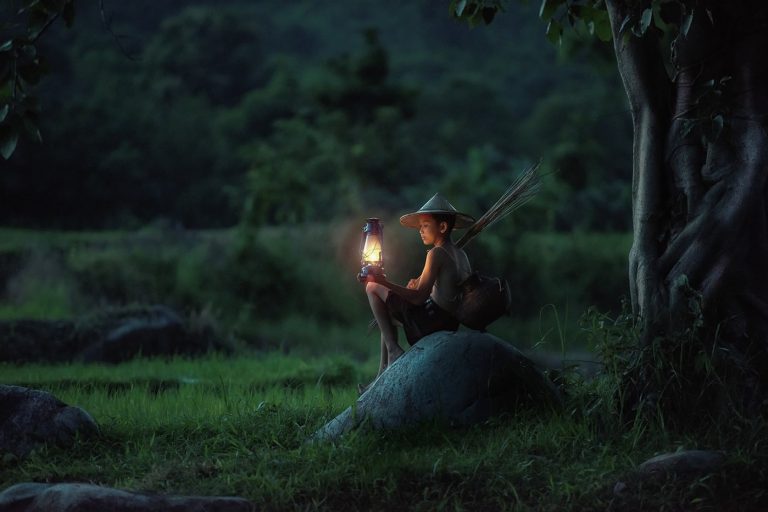 A blackout happened in our neighborhood one night. Everything around me became pitch black. I couldn't see anything, not even the things right next to me.
Being in the darkness is terrifying. All creatures need light to live and flourish. Even most plants will not grow well without getting enough sunlight. 
Muslims and Christians also need Allah's light (noor) in their life, so they will not get lost and end up in eternal darkness. How can we experience Allah's true light? Read this article to find out.  
Sin Hinders Allah's Light from Coming
Since Adam and Eve fell into sin, mankind has lost Allah's light and honor. We need Allah's light in our life to stay on the straight path, the one that leads to eternal life.
Allah wants all people to open their eyes and turn from darkness to light (Injil, Acts 26:18). The Quran also says something similar. "Allah is the Guardian of those who believe, He brings them out of every darkness (disbelief) into light (faith)…" (Qs 2:257).
We all want Allah's light to shine on our lives. Thus, we are diligent in our prayers, doing good deeds, etc. However, how do we know if we're lost and living in the darkness?
To help us walk in the light and not go astray, Allah has provided light in the Gospel. "And We gave him the Gospel, wherein is guidance and light" (Qs 5:46).
Therefore, we need Allah's true light in our hearts. That light will guide and ensure our freedom from the darkness that comes as a result of sin. Allah's light for us is only available through this Gospel.
Allah's Word is the Light of the World (Noor ul-Alam)
Allah's Word testifies that Isa-Al Masih is the Light (Noor) of the world. "I [Isa Al-Masih] am the light of the world. Whoever follows me will never walk in darkness, but will have the light of life" (Gospels, John 8:12).
Maybe sometimes you feel like you're living in darkness due to sin or difficult circumstances. Isa Al-Masih is the Light of the world. He has the power to lighten up your life. He provides hope for us all. 
The Result of Believing in the Light of the World
This is Allah's promise to those who believe in Isa Al-Masih. "Yet to all who did receive him, to those who believed in his name, he gave the right to become children of God …" (Gospel, John 1:12-13).
Those who believe in Isa Al-Masih are promised true joy on earth and in heaven. They will live in His light, are not lost, and will not perish in eternal darkness.
They are Allah's children and will inherit His kingdom. Do you thirst for Allah's light in your heart? Believe in Isa Al-Masih today!
---
SOME QUESTIONS FOR THE COMMENT SECTION BELOW
We encourage our readers to comment on the article above. Comments that don't directly relate to the topic will be removed. Please start a dialogue with us by focusing on one of the following questions:
How important is Allah's light to you? Explain!
As a Muslim, do you receive Allah's light through praying or doing good deeds? Do those things help you not go astray? Explain your answer!
Why is Isa Al-Masih, the Light of the world, the only one that deserves to receive our trust for our salvation?
[We invite you to visit us at http://www.isaandislam.com/way-of-salvation to learn more about God's gift of Salvation. God loves you and waits to hear from you. Jesus clearly said, "I am the way, the truth, and the life. No one comes to the Father except through Me" (Injil, John 14:6). For a deeper understanding of Jesus, we suggest you subscribe to "Isa, Islam, and Al-Fatiha" at this link.]