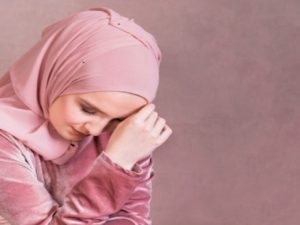 Are you currently stressed about anything? There are many things that cause us stress such as family, finances, work, and the future. Stress and worry take our joy away.
What's the best way to overcome stress in Islam? How can we be free from worry?
Young People Are Vulnerable to Stress
Worry and stress are experienced not just by older people but by younger people as well. Uncertainty about the future causes stress and even depression. We can become sad and lose hope.
Stress and worry can be caused by both physical and spiritual things. Physical worries include work, family, money, school, etc. Spiritual stresses include fear of death, no assurance of salvation, and being trapped in sinful behaviors.
No one wants to experience any of those things. We all desire to live free from stress and worry. We want a life full of joy and peace. Is that even possible?
We would be happy for you to share any struggles in your life with us, and we would love to pray for you.
How to Overcome Stress in Islam
The way to overcome stress in Islam is to read Al-Fatihah seven times per day, give alms, pray, and do good deeds. It's true that meditating on Allah's names can calm our hearts. But, can doing good deeds really help get rid of stress?
What about the end of Al-Fatihah? "Guide us to the straight path – The path of those upon whom You have bestowed favor, not of those who have evoked [Your] anger or of those who are astray" (v. 6-7).
Muslims who perform Salat prayers always recite Al-Fatihah, however, they still experience stress. Does that mean reciting Al-Fatihah doesn't help overcome stress?
When you read the last two verses of Al-Fatihah, does your worry disappear? Send us your thoughts here.
Solution to Overcome Stress and Have Peace
Isa Al-Masih demonstrated His power over every difficulty people faced. Including healing the sick, comforting those who mourned, and bringing internal peace. He said, "Do not let your hearts be troubled. You believe in Allah; believe also in me" (Gospels, John 14:1).
Allah's Word explains the reason we must believe in Isa Al-Masih. "Do not be anxious about anything . . . And the peace of God, which transcends all understanding, will guard your hearts and your minds in Christ Jesus [Isa Al-Masih]" (Injil, Philippians 4:6-7).
Allah helps his followers with every struggle, including stress, through Isa Al-Masih. Because Isa is the Lord and Savior of the world. We can experience peace and joy both in this world and for eternity in Heaven.
How Can You Have Peace?
True peace is found only through Isa Al-Masih. We don't need to worry or stress anymore. Isa is able to bring peace to your heart by giving you assurance of salvation. Put your trust in Him today!
SOME QUESTIONS FOR THE COMMENT SECTION BELOW
We encourage our readers to comment on the article above. Comments that don't directly relate to the topic will be removed. Please start a dialogue with us by focusing on one of the following questions:
What difficulties or struggles are you facing that are causing you stress and worry?

Do you think the way to overcome stress in Islam is effective? Why or why not?

Isa Al-Masih can overcome any worry and stress we may have. What should our attitude be towards Him?

[We invite you to visit us at http://www.isaandislam.com/way-of-salvation to learn more about God's gift of Salvation. God loves you and waits to hear from you. Jesus clearly said, "I am the way, the truth, and the life. No one comes to the Father except through Me" (Injil, John 14:6). For a deeper understanding of Jesus, we suggest you subscribe to "Isa, Islam, and Al-Fatiha" at this link.]