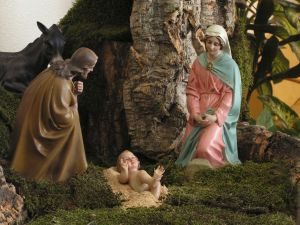 To understand the "secret of Christmas," we need to understand the difference between "knowing about" and "knowing," There's a phrase that explains the secret of Christmas in the Quran. This will help us understand the difference between these two terms and how the Quran relates to Christmas.
The Difference Between "Knowing About" and "Knowing" 
Imagine that you are a single guy who sees a new lady at work. Through observation you know she is diligent, likes to read, is pretty, and always eats with two friends in the cafeteria. You know her name is Mawarti, she is from Indonesia, and still single. However, you do not really know her yet.
Only through talking with her do you get to "know" Mawarti. Words are the way we get to know people.
Muslims know a lot about Allah. They learn about Allah in the Quran, Hadith, Sunnah of the Prophet, and Allah's 99 names. Email us if you think that Muslims know Allah.
The Secret of Christmas in the Quran 
 The angels said, "O Mary, indeed Allah gives you good tidings of a word from Him, whose name will be the Messiah, Jesus [Isa Al-Masih], the son of Mary–distinguished in this world and the Hereafter . . ." (Qs 3:45).
This verse about the secret of Christmas is also found in the Gospels. "The Word became flesh and made his dwelling among us" (Gospel, John 1:14).
The Meaning of "Allah's Word" in Qs 3:45 
With the coming of Isa from heaven, Allah speaks to mankind. Allah wants us to know Him.
Isa Al-Masih, the Word of Allah, "knows" His followers. They "listen to His voice" and "know" Him (Injil, John 10:4, 14, 16, 27). Email us if you want to know Allah.
Allah Wants To Know Us Through His Word
There's a verse that pictures our heart as a house. In that metaphor, Isa Al-Masih stands at the door of the house (our heart) and knocks.
As He knocks, the Word of Allah says, "If anyone hears my voice and opens the door, I will come in and eat with that person, and they with me" (Revelation 3:20).
All Muslims Are Invited to Experience Mary's Joy at Christmas 
Like the story above, you cannot "know" Mawarti before you talk to her. You're limited to only information about her. You know about her, but you do not "know" her.
Allah wants to know you. Allah, through His Word, can come into your heart. You can "know" his voice and experience His presence.
What's the secret of Christmas in the Quran? The "Word of Allah." Follow Him. Then you and Allah will "know" each other! This is the best Christmas gift!
[IAI Staff – For input or questions about this article, please send your email to Isa and Islam Staff]. 
SOME QUESTIONS FOR THE COMMENT SECTION BELOW 
We encourage our readers to comment on the article above. Comments that don't directly relate to the topic will be removed. Please start a dialogue with us by focusing on one of the following questions:
Why are so many people satisfied with just knowing a lot about Allah, but not actually knowing Allah?

Do you desire to know Allah, experience His presence every day, and listen to His voice? Share with us why you haven't known Him yet.

Have you ever learned about Christmas and the Quran? Does it fill your heart with joy that Allah wants to know you and wants you to know Him? Explain your answer.

[We invite you to visit us at http://www.isaandislam.com/way-of-salvation to learn more about God's gift of Salvation. God loves you and waits to hear from you. Isa clearly said, "I am the way, the truth, and the life. No one comes to the Father except through Me" (Injil, John 14:6). For a deeper understanding of Isa, we suggest you subscribe to "Isa, Islam, and Al-Fatiha" at this link.]