All religions claim to want a just world that is free from crime. Thus you would think that religious practices would not increase crime. If they did, you would certainly question the religion, or at least the religion's belief systems, wouldn't you?
Polygamy is illegal in most of the modern world. Why? Is it bad to marry more than one woman? Let's look at what unbiased research has discovered.
A scientific study found that in cultures where plural marriage is accepted there are higher levels of violent crimes, including rape, assault, and robbery. Why is this?
What Happens When There Is a Shortage of Single Women?
The study showed that the shortage of single women causes men to compete for unmarried women. This competition increases the chance that unmarried men will resort to crime to gain those women.
This behavior results in more theft, kidnapping (especially of women), and sexual slavery. It also increases tendencies toward homosexuality in the men.
Islam Supports Polygamy
The Quran granted Muhammad wide latitude in his marriages:
"Prophet, We have made lawful for you your wives whom you have given their dowry, slave girls whom God has given to you as gifts, the daughters of your uncles and aunts, both paternal and maternal, who have migrated with you. The believing woman, who has offered herself to the Prophet and whom the Prophet may want to marry, will be specially for him, not for other believers. . . ." (Qs 33:50).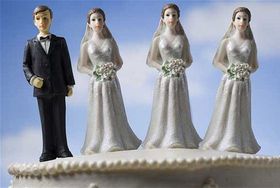 The Quran also allows all Muslim men to have up to four wives. It states, "With respect to marrying widows, if you are afraid of not being able to maintain justice with her children, marry another woman of your choice or two or three or four (who have no children). If you cannot maintain equality with more than one wife, marry only one or your slave-girl. This keeps you from acting against justice" (Qs 4:3).
Islam claims that it makes society better. But it is evident that the practice of polygamy tears society down, not improve it. In reality, Muslims should stand against this Islamic practice, as it works against the betterment of mankind.
Muslims claim that the Taurat teaches polygamy. The Taurat did permit it, but it was never taught as God's ideal. The first chapters of Genesis are very clear – one man and one woman!
The Value of the Traditional Marriage
The study referred to above shows that traditional marriage (one husband, one wife) results in many benefits. Monogamous marriages mean less neglect, abuse, murder and overall conflict in the home.
Isa Al-Masih himself said that the ideal relationship was established in the beginning between Adam and Eve – one husband and one wife. This is also taught plainly by the great Apostle Paul, "But because there is so much sexual immorality, each man should have his own wife, and each woman should have her own husband" (1 Corinthians 7:2).
Also, "A man leaves his father and mother and is joined to his wife, and the two are united into one." (Ephesians 5:31).
What is the Real Problem?
The real problem is sin and separation from God. The Bible says, "The heart is deceitful above all things, and beyond cure. Who can understand it?" (Jeremiah 17:9).
God can cleanse us from this evil heart, full of sin and give us a new heart. "If any man be in Christ, he is a new creation. The old things has passed away; behold the new has come" (2 Corinthians 5:17).
When this happens, a man will be happy with one wife. He will not be governed and controlled by a desire for sex. He will want to please his wife and bless his children. This kind of "new" man will strengthen and enrich society.
[We invite you to visit us at https://www.isaandislam.com/way-of-salvation to learn more about God's gift of Salvation. God loves you and waits to hear from you. Isa clearly said, "I am the way, the truth, and the life. No one comes to the Father except through Me" (Injil, John 14:6). For a deeper understanding of Isa we suggest you subscribe to "Isa, Islam, and Al-Fatiha" at this link.]
SOME QUESTIONS FOR THE COMMENT SECTION BELOW
We encourage our readers to comment on the article above. Comments that don't directly relate to the topic will be removed. Please start a dialogue with us by focusing on one of the following questions:
1.) Why does polygamy cause an increase in crime?
2.) Is polygamy a good idea?
3.) If you claim that polygamy is better than monogamy, what is the justifications?
If you have a question regarding this article, please contact us by clicking this link.
This article is a condensed version of an article from: http://www.answeringmuslims.com/2012/03/new-study-shows-polygamy-leads-to.html