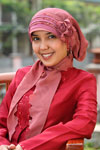 My mother, a religious woman who died a few years ago, was beautiful. She was a strong, patient woman who loved her family very much. She didn't hesitate to lend a hand in order to help our family's finances. She sewed clothes and traded goods. About four years ago, she passed away. Memories of her and her inner beauty are imprinted on our hearts.
Women Want to Look Beautiful
Every woman wants to look beautiful. No one will argue with that statement! They put a lot of effort into it. They don't hesitate to spend thousands of dollars on make-up and wear trendy clothes.
Islam and the Injil on Inner Beauty
Islam teaches that a beautiful woman is solehah (virtuous). "The world is jewelry and the best jewelry is the woman's solehah" (HR. Muslim, Ibn Majah and An Nasai). The solehah woman is one whose character comes from a heart that obeys Allah. "Verily GOD does not look at the appearance and shape of your property, but he looks at the heart and your deeds" (HR. Muslim, Ahmad and Ibn Majah).
The Injil teaches the same thing. "You should clothe yourselves instead with the beauty that comes from within, the unfading beauty of a gentle and quiet spirit, which is so precious to God" (1 Peter 3:4).
A gentle woman is not someone who stays silent or speaks with a soft voice. But, she will reprimand what is wrong and counsel wisely with love. The quiet woman is calm, submits to her husband, is peaceful, and has self-control.
The Key to Becoming a Beautiful Believer in Allah!
But a woman can't have inner beauty by her own wisdom and strength. She needs Isa Al-Masih! Why? When she receives Isa into her life, He will change her into a new creation. "Therefore, if anyone is in Christ, the new creation has come: The old has gone, the new is here" (2 Corinthians 5:17). This new creation will have a gentle and quiet spirit.
Isa died and came back to life. He died as a holy sacrifice to pay the punishment of death required for the sins of the world. Just as Isa was resurrected, so anyone who accepts Him will walk in a new life. A new life enables a woman to live a solehah (virtuous) life!
[We invite you to visit us at https://www.isaandislam.com/way-of-salvation to learn more about God's gift of Salvation. God loves you and waits to hear from you. Isa Al-Masih clearly said, "I am the way, the truth, and the life. No one comes to the Father except through Me" (Injil, John 14:6) For a deeper understanding of Isa, we suggest you subscribe to "Isa, Islam, and Al-Fatiha" at this link.]
SOME QUESTIONS FOR THE COMMENT SECTION BELOW:
We encourage our readers to comment on the article above. Comments that don't directly relate to the topic will be removed. Please start a dialogue with us by focusing on one of the following questions:
1. What do women usually do in order to look beautiful?
2. What do Islam and Christianity teach about inner beauty?
3. What do you feel about the Injil's approach to inner beauty?
If you have a question regarding this article, please contact us by clicking this link.