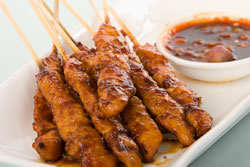 Muslims are disgusted when they see Christians eating pork. Even seeing a pig repulses them. Muslim food laws are similar to the food laws Moses gave Israel. Pork was clearly forbidden in the Taurat:
"Pigs have hoofs that are separated completely in two. But they do not chew the cud. So they are not 'clean' for you. You must not eat the meat of those animals. You must not even touch their dead bodies. They are not 'clean' for you" (Taurat, Leviticus 11:7-8).
Pork, an Abomination to God
The Quran, possibly influenced by the Taurat, also prohibits pork. "He has . . . forbidden you . . . blood, and flesh of swine . . ." (Qs 2:173).
What's the Difference between Civil Law and Moral Law?
The Taurat has several types of laws: religious laws, moral laws and civil laws. Moral law is universal. For example, "You shall not steal" applies to all people everywhere. Civil law varies from country to country and age to age, e.g. traffic regulations. The same is true of religious law.
One of Israel's religious laws forbade eating pork. It was common for the pagan tribes to offer a pig as a sacrifice to their idols. The pig was also very filthy. Eating pork caused terrible diseases to spread.
Israel-A Chosen Nation for a Special Purpose
Religious laws separated Israel from the surrounding pagan countries. They showed that Israel served the one true God. Israel was to be a constant reminder to the rest of the world that God had set them apart from other nations for a very special reason.
Why was Israel so special? Why did God choose them? Because Isa Al-Masih, the Kalimat Allah, would come into the world through Israel.
Isa Al-Masih Pointed out to Religious Leaders the True Source of Evil
Unfortunately, during Isa Al-Masih's ministry on earth, many Israelites had lost sight of the purpose of the civil law. They started thinking that keeping religious laws made them holy. They thought religious law was more important than moral law. Men used the religious law to make their own version of holiness.Isa corrected them.
Isa Al-Masih spoke against this wrong use of the religious law: "Don't you understand?" Jesus asked. "Don't you see? Nothing that enters people from the outside can make them 'unclean.'" … He went on to say, "What comes out of people makes them 'unclean.' Evil thoughts come from the inside, from people's hearts. So do sexual sins, stealing … being proud and being foolish. All those evil things come from inside a person. They make him 'unclean'" (Injil, Mark 7:18-23).
Pork and Holiness
Eating pork does not make us unholy! We are all unholy, even if we never eat pork. We will not be kept out of heaven because of what we did or did not eat. What makes us unholy is that we are sinful. The things we do are a result of what is inside our hearts, which is sin. Our sin keeps us from God and heaven. The only way we can be made holy is by accepting Isa Al-Masih's sacrifice for our sin.
Food Laws from the Taurat No Longer Valid
The Lord commanded the Apostle Peter "to eat certain animals" that were listed as "unclean" in the Taurat. The story is told in detail in the Injil: "He [Peter] saw heaven open up. There he saw something that looked like a large sheet… It had all kinds of four-footed animals in it… Then a voice told him, 'Get up, Peter. Kill and eat.' 'No, Lord! I will not!' Peter replied. 'I have never eaten anything that is not pure and clean.' The voice spoke to him a second time, 'Do not say anything is not pure that God has made clean'" (Acts 10:11-15).

The food laws that separated Jews from non-Jews, such as eating pork, were no longer valid. God cancelled them. By doing this, He reminds us that He is mainly concerned with our inward appearance, not our outward appearance. What is on the inside makes us evil, not what is on the outside.
When comparing the Taurat and the Injil, one must look to see if the law in the Taurat is given again in the Injil. Laws which are not repeated in the Injil are no longer valid. The law about pork is revoked in the Injil!
Avoiding Pork Does Not Make Us Holy
A person's deeds cannot make him holy. Avoiding pork or keeping other laws does not make a person good. Allah is perfect. We are not! Nothing we do on our own good enough to get us into heaven. Allah cannot allow anything unholy, pork eaters or non-pork eaters into heaven.
The Prophet David said, "The Lord looks down from heaven on all people. He wants to see if there are any who understand. He wants to see if there are any who trust in God. All of them have turned away. They have all become evil. No one does anything good, no one at all" (Psalms [Zabur] 14:2-3). This means that both people who eat pork and people who do not eat pork are evil.
The only way a person can be made holy and get into heaven is through Isa Al-Masih. "But now God has shown us how to become right with him. The Law and the Prophets give witness to this. It has nothing to do with obeying the law. We are made right with God by putting our faith in Jesus Christ. That happens to all who believe" (Romans 3:21-22).
[We invite you to visit us at https://www.isaandislam.com/way-of-salvation to learn more about God's gift of Salvation. God loves you and waits to hear from you. Isa Al-Masih said, "I am the way, the truth, and the life. No one comes to the Father except through Me" (John 14:6). For a deeper understanding of Isa we suggest you subscribe to "Isa, Islam, and Al-Fatiha" at this link.]
Questions to Comment On:
The Staff at Isa and Islam invites your comments. Please respond to the following questions:
1. What is the difference between moral law and civil law?
2. Why is it okay to eat pork now?
3. What is the only way we can be made holy?
If you have a question regarding this article, please contact us by clicking this link.