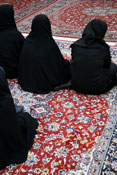 Since the creation of the world, men have considered themselves superior to women. This view is supported by many religious books. However, new social science discoveries have found that women outperform men.
Men and Women in Muslim Teachings
• Ismail ibn Kathir wrote: "Allah made men higher than women. Men are superior to women and better than women" (Qs 4:34).
• Abu Said Al-Khudri explains: "The prophets say, 'Is not a woman's witness worth half of a man's?' Women answer, 'Correct.' Muhammad, 'This is because the woman's mind is deficient'" (Sahih al-Bukhari, Volume 3, Book 48, Number 826).
Scientific Conclusions of Comparative Studies on Men and Women
Thousands of men and women were part of a comparative study done by social science experts. You can easily find the results of this study on the internet. Some of the discoveries are:
• Women live longer than men.
• Women are better drivers than men.
• More men have mental illnesses than women.
• On average, women have a higher IQ than men.
• Women are cleaner, i.e., they are more careful to avoid bacteria.
• More women in the U.S. graduate with a bachelor's degree.
• Female bosses are more successful than male bosses.
• Women are better at investing. They save more money than men do.
• Women have a more powerful memory than men.
• Women are better at handling stress than men.
The Excellence of Men and Women
The research data above shows that men are not better than women. Religious experts who think women's minds are deficient are clearly wrong. Neither Muslims nor Christians should underestimate women. I, as a male writer, have stressed many cases where women exceed men. God's revelation says, "There is no longer Jew or Gentile, slave or free, male and female. For you are all one in Christ Jesus" (Letter to the Galatians 3:28).
Men and women are equal before God! He looks at them the same way. They receive the same rewards and punishment from Him. God treats men and women the same.
Both Men and Women Need Isa Al-Masih
Allah's Holy Book says, "for all [men and women] have sinned and fall short of the glory of God" (Letter to the Romans 3:23). Isa Al-Masih also said, "For the Son of Man came to seek and save those [men and women] who are lost" (Injil, Luke 19:10).
Are you still lost? The way of salvation for all people from impurity, shame, and fear is available through the sacrifice of Isa Al-Masih!
[We invite you to visit us at https://www.isaandislam.com/way-of-salvation to learn more about God's gift of Salvation. God loves you and waits to hear from you. Isa clearly said, "I am the way, the truth, and the life. No one comes to the Father except through Me" (Injil, John 14:6). For a deeper understanding of Isa subscribe to "Isa, Islam, and Al-Fatiha" here.]
SOME QUESTIONS FOR THE COMMENT SECTION BELOW
We encourage our readers to comment on the article above. Comments that don't directly relate to the topic will be removed. Please start a dialogue with us by focusing on one of the following questions:
1. What do you think about the study? Do you think its findings are correct?
2. What do you think about the Hadith, that a woman's mind is more deficient than a man's?
3. Does God treat men and women equally?
If you have a question regarding this article, please contact us by clicking this link.